We live in strange days. Matters once unlikely to raise a flicker of public criticism can now quickly became raging bushfires of self-righteous anger. Such is the accelerant power of social media. Our public discourse is, however, rarely the better for it. Subtlety and nuance are all too frequently sacrificed on the altar of a supposed moral clarity that, among other things,sits uneasily against the conceptually elusive nature of artistic practice.
Such was the case when Opera Australia announced it had programmed West Side Story next year for its now annual Handa Opera on the Harbour performances. The point of contention was not, as it has often been when Opera Australia has ventured into the realm of music theatre, whether the national opera company should be competing in the commercial theatre space and collaborating with commercial theatre producers. Nor was it the company's purported over-reliance on international soloists in recent years. The cast features two Australian leads: Tony will be played by Alexander Lewis and Maria by Julie Lea Goodwin. The rumble was caused by the fact that Ms Goodwin is not a Puerto Rican or of Latin-American origin. A steady flow of angry comments on Facebook and Twitter followed, decrying the apparent 'whitewashing'. A few days later, an article on the SBS website quoted a spokesperson from Sangre Migrante, a Latinx community organisation who explained that Opera Australia's decision 'is essentially taking away a very small window of opportunity for Latinx actors/singers. There is a Latinx population here in Australia, we exist and representation matters so much.'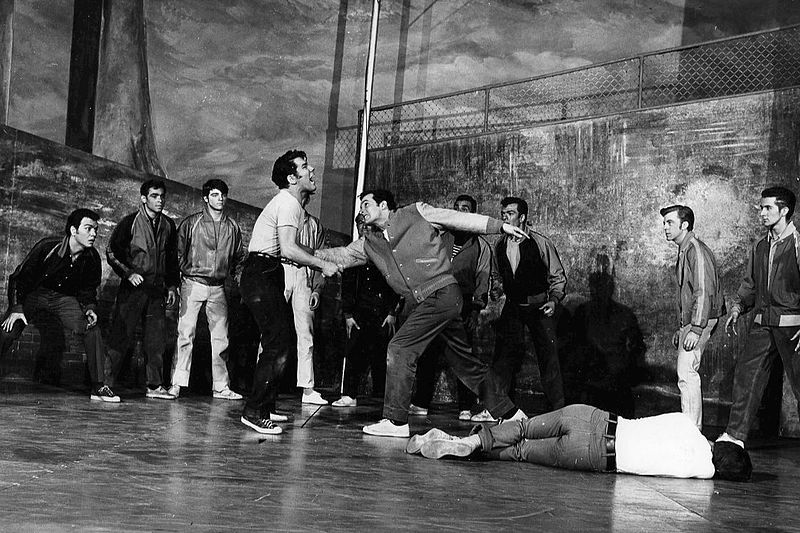 The Rumble scene from the original Broadway performance of West Side Story, 1957 (credit: Wiki Commons)
As it happens, an almost identical fuss had already erupted in the United Kingdom in April 2018 when it was announced that Broadway star Sierra Boggess would be playing Maria for a concert performance of the work for this year's Proms Festival at London's Royal Albert Hall (Boggess later announced her withdrawal).
Opera Australia's own response to these accusation of 'whitewashing' was to state that 'We're committed to colour-blind casting, and we don't cast any role based on ethnicity or skin colour.' Artistic director Lyndon Terracini argued that their desire is, rather 'about finding the best people that you possibly can and delivering the best possible production'. But Opera Australia has partly invited this controversy for it certainly has been prepared in the recent past to justify casting based on the 'look' (or, more specifically, the weight and age) of a singer. It is obviously tricky for it to suspend that same logic when it comes to casting of roles associated with a particular ethnic identity.
Nevertheless, Opera Australia's position on this matter is defensible. If, for instance, the argument of Sangre Migrante's spokesperson was taken at face value, it might seem that the only available roles for actors/singers of Latinx origin in Australia are those in which they play people of Latinx origin. But that surely is not true. If it were, it would also mean (certainly as far as opera is concerned) that only baritones with dwarfism could be cast as Alberich in Wagner's Ring, or only Japanese sopranos be cast as Butterfly, or only physically deformed baritones as Rigoletto.
Rather, examples of casting against such a grain are nowadays much more common, such as use of non-white actors to play the founding fathers of the United States in the musical Hamilton or the casting of a British actor of Indian descent, Dev Patel, as David Copperfield in Armando Iannuci's forthcoming film version of Dickens's novel. Our cultural life is surely all the better for it.
In the end, illusion is fundamental to opera and music theatre, indeed all theatre. It is therefore not necessarily a racial insult to cast someone in a role who does not fit a stereotypical look. By the same token nor is it an expression of over-sensitive political correctness to do so. Both options should be open to a casting director; they lie within the conventions of theatrical experience. And, lest we forget, West Side Story was conceived by Jewish-Americans; the composer was Leonard Bernstein, the librettists Bernstein and Stephen Sondheim, and the choreographer was Jerome Robbins. And it was all inspired, of course, by a play by a sixteenth-century Englishman. Maria is therefore always-already not pure Latinx, she never can be anything else. She is, indeed, ultimately the imaginative projection of people who might unkindly be called today 'male, pale, and stale'.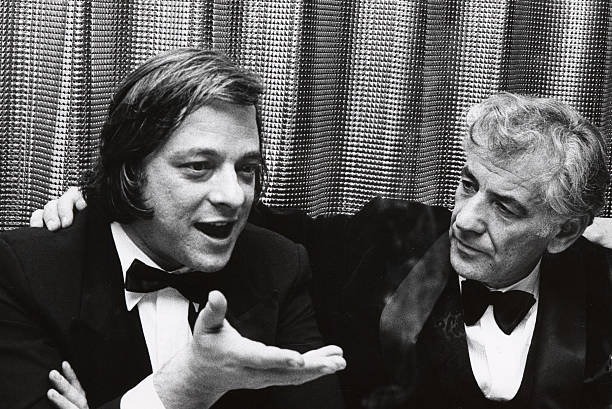 Stephen Sondheim and Leonard Bernstein in March 1973 at the Shubert Theater in New York (photo by Ron Galella)
But this surely does this mean that we should therefore not perform West Side Story. Even the 'whitewashed' film version of the musical (where Maria was played by Natalie Wood, a white American of Russian origin) and sung by Marnie Nixon (another white American) still draws our attention to the immigrant experience of Puerto Ricans, and asks us, through the power of its text, music and movement, to imagine something of, and sympathise with, their inner life (and its connections with our own.) That cannot but be a good thing, however limited and imperfect a vision it may be.
It would of course be quite another issue were particular actors or singers of any race or creed being denied opportunities simply on the basis of their race or creed. This would be a real and urgent political issue deserving of public protest. But, unless I am mistaken, this was not was the root of the complaints made against Opera Australia. Rather it was a frustrated expectation that actors should always be of the same race or creed as the person they are pretending to be.
That, however, is to misunderstand both their role, and the role of theatre more generally. As the late Philip Roth wrote in I Married a Communist, the job of both is not, in the end, to erase contradictions between life and art but 'to see where, within the contradiction, lies the tormented human being'. Otherwise, we are merely producing 'propaganda, if not for a political party, a political movement, then stupid propaganda for life itself – for life as it might itself prefer to be publicised.'