August Strindberg thought Creditors, which premièred in its original Swedish in Copenhagen in 1889, his 'most mature work'. Sitting alongside the more often performed The Father (1890) and Miss Julie (1889) in the playwright's middle, ultra-naturalistic period, the play is an attempt to theatricalise 'soul murder', an idea – one that fascinated both Strindberg and his contemporary Henrik Ibsen – that emerged in the psychiatric literature of the late-nineteenth century, defined as the purposeful depriving of a person's basic reason to live. In his 1887 essay 'Soul Murder', in part a response to Ibsen's play Rosmersholm (1886), Strindberg wrote that 'there is nothing so destructive to the thinking process as shattered hopes, and a highly developed form of this torture can induce insanity'. Is it possible, Strindberg wanted to know, for someone sufficiently ruthless to drive another weaker-willed person into submission, and, ultimately, to kill them?
In Creditors, this dynamic is mapped onto the relationship between the older, Machiavellian Gustav (Peter Kowitz) and the young, impressionable painter-turned-sculptor Adolph (Matt Crook). While the original play's setting is a seaside hotel, in Duncan Graham's contemporised version, Adolph and his wife Tekla (Caroline Craig) are holed up in a sort of health retreat in the Australian bush (there is no mobile phone service and, unlike in the later psychological dramas by Eugene O'Neill, Edward Albee and others that somewhat resemble Creditors, emotions are strictly water- rather than alcohol-fuelled).
Under Gustav's cloying watch, Adolph is sculpting a rather modernist, headless bust with oversized breasts, while Tekla – a novelist and, unbeknown to Adolph, Gustav's former wife – is attending a nearby writers' festival. Iago-like, Gustav persuades the highly strung Adolph that not only is he 'pussy-whipped' to the detriment of his art, but also that his wife is unfaithful, and that – in another nod to Shakespeare's Othello – he is on the verge of epilepsy. But where Iago's motives are famously opaque, Gustav's are clear enough: revenge for Tekla's leaving him, and for Adolph's usurpation of what he believes to be rightly his.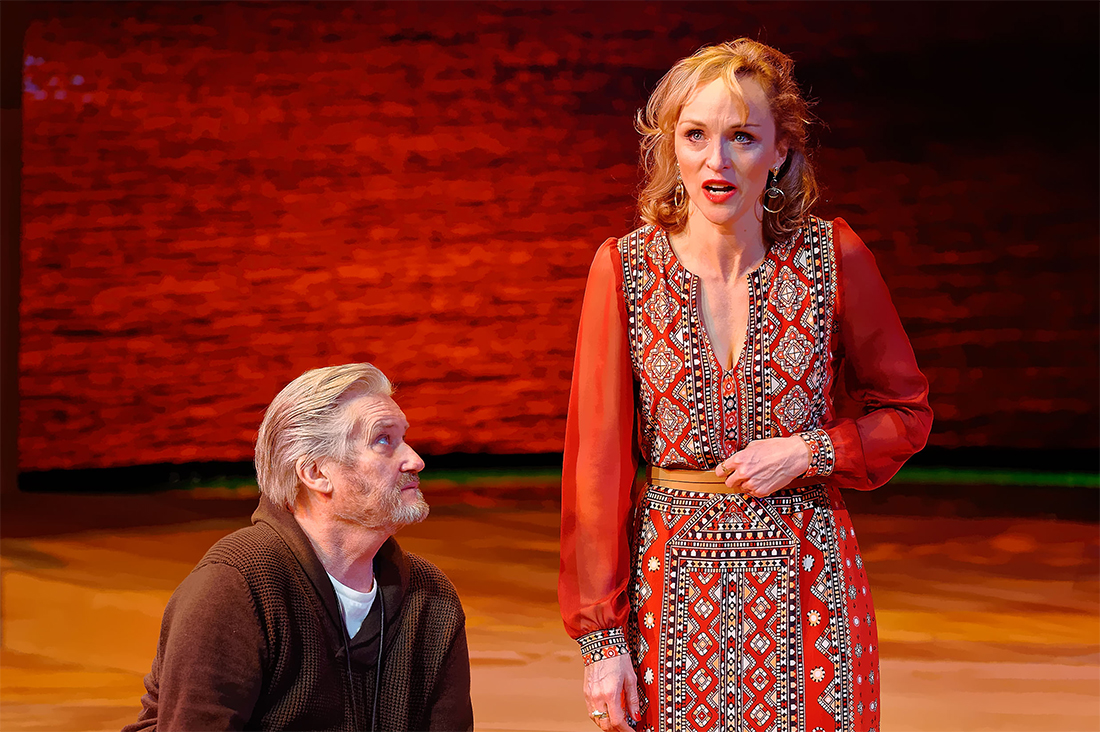 Peter Kowitz as Gustav and Caroline Craig as Tekla in Creditors (photo by Chris Herzfeld)
Much like Scottish playwright David Greig's recent adaptation of the play (first staged at the Donmar Warehouse in London in 2008, a production directed by the late Alan Rickman), Graham's script adheres closely to the original, enlivening the staid language of the familiar English translations and working in the odd contemporary reference, but retaining Strindberg's caustic style and sharply compressed structure: three duologues comprising ninety minutes of stage action with the interval removed in order to heighten the dramatic tension. In form at least, Creditors feels thoroughly modern, anticipating Strindberg's idea of what he would later call 'Intimate Theatre', chamber drama shorn of complex stagings, and taking place in small venues where there is little distance between performers and audiences.
As directed by David Mealor and designed by Ailsa Paterson, this production takes a different tack. While the Space, an intimate black box theatre, is ideal, Paterson's spacious, over-elaborate set – there are huge projections, actual eucalypt branches, and even an upstage 'infinity pool' with water in it – works against the feeling of claustrophobia the play, in its intense psychological focus, is designed to generate. As a consequence, the actors waste a good deal of energy simply filling the space with their bodies – needlessly moving from one chair to another, lounging over the steps that lead to the pool, and, especially, making endless trips to a downstage serving trolley to pour themselves glasses of water.
Fortunately, all of this is dignified by three persuasive performances. Mealor is an actors' director and it shows in his simpatico approach to Strindberg's intricate and psychologically complex characterisation. In lightning shifts of voice and mien, Kowitz is by turns imperious and ingratiating, his Gustav every inch the chameleon he accuses his ex-wife of being. It's a commanding performance. Strindberg wrote that he saw his characters as 'split and vacillating, a mixture of the old and the new… exactly as the human soul is patched together'. It's a vision the actors – Crook and Craig are also excellent – are faithful to, weaving a compelling sense of menace out of Graham's rapid-fire dialogue and Mealor's fast-paced action.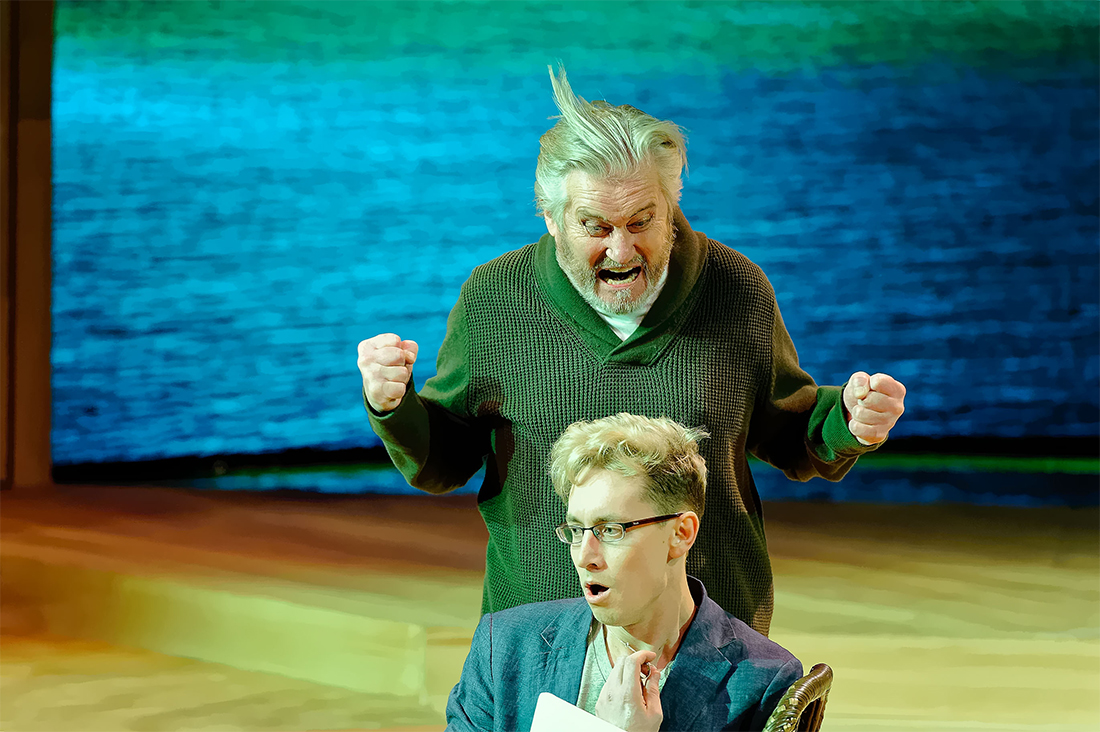 Peter Kowitz as Gustav and Matt Crook as Adolph in Creditors (photo by Chris Herzfeld)
In his program note, Graham writes that Creditors 'belies the standard charges of misogyny currently levelled at Strindberg'. I'm not sure that it does. Perhaps more so than any other of Strindberg's plays, it exposes the playwright's deeply regressive view of women. (It should not go unremarked, either, that Strindberg's sexism was of a piece with his other prejudices, extreme even for his time, namely racism and an especially virulent form of anti-Semitism.) It is not impossible to read the play as a critique of misogyny, Adolph's destruction as the consequence of toxic attitudes towards women.
Certainly, when Gustav rails against women – those vampires and 'succubi' who 'haemorrhage thirteen times a year' and drain the life force from brilliant men – we know we are in the realm of a lurid kind of satire. While watching the play, I was tempted to think that Graham was mounting another critique too, one of the poisonous influence of neo-masculinists like Jordan Peterson whose talk of 'natural' dominance hierarchies is finding an all-too-ready audience, those in misogynistic alt-right communities full of credulous young white men who, not unlike Adolph, have been made to feel that their disaffection is the result of emasculation by women. Perhaps Graham did have something like this in mind, but, really, there's no escaping the play's chauvinism. Yes, Tekla is feisty, but she is in every way secondary to the male characters – unlike them, she has no debt to call in as per the play's title – while her easy capitulation to Gustav's sexual advances, the act that seals Adolph's destruction, feels utterly implausible in 2018.
It is simply not enough in this day and age for female characters to be 'strong', for our art to remain resistant to encoding their emancipation in form and structure, as well as argument. Every other day Netflix gives us a new reason to believe that a drama of genuine female liberation is not only desirable but also possible – and perhaps even inevitable.
Creditors, presented by State Theatre Company, is being performed at Space Theatre from 20 July to 5 August. Performance attended: 24 July.
ABR Arts is generously supported by The Ian Potter Foundation and the ABR Patrons.