John Russell (1858–1930) is an artist who has largely fallen through the cracks of art history. Neither Australian enough to be incorporated into the history of Australian art, nor French enough to be recognised as a major player in histories of French art, Russell has been consistently overlooked – until now.
The major retrospective of his work curated by Wayne Tunnicliffe, currently on display at the Art Gallery of New South Wales, makes the case for the insertion of Russell into the grand narrative of modern art by situating him alongside some of the most iconic Impressionist, Post-Impressionist and Symbolist artists of the late-nineteenth and early-twentieth centuries: Claude Monet, Vincent Van Gogh, Auguste Rodin, Henri Matisse, and others. The exhibition places the Sydney-born, London-trained artist, who spent the majority of his career working in Paris and on the island of Belle-Île, at the centre of French avant-gardism. Remarkably, in such august company, Russell holds his own.
The exhibition includes examples of the artist's figure studies produced under the direction of Alphonse Legros at the Slade Art School; realist, impressionist, and post-impressionist experiments inspired by his time in the Parisian atelier of Fernand Cormon; landscape paintings of the Belle-Île coastline and seascapes of the rough Atlantic ocean; and watercolours of scenes in France, Switzerland, Portofino, and Sydney.
A particular highlight is the reunion of In the morning, Alpes Maritimes from Antibes (1890–91) and In the Afternoon (1891), which were originally exhibited together at the New English Art Club in 1891. In the Afternoon, in particular, exemplifies the artist's supreme command of colour, especially the colour purple. The exhibition is bookended by paintings Russell produced in Australia: an early self-portrait from 1883 of the artist wearing a bright red ; and a vision of Regatta, Rose Bay, dated 1922. But the real showstopper (if you ignore the frame) is Mrs Russell among the flowers in the garden of Goulphar, Belle-Île (1907), a depiction of the artist's wife immersed in thickly applied pink, red, and white paint-splotch flowers, which concludes the exhibition.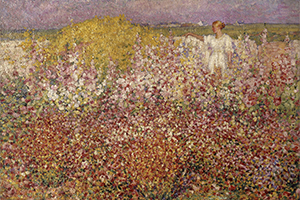 John Russell, Mrs Russell among the flowers in the garden of Goulphar, Belle-Île, 1907. Musée d'Orsay, Paris, held by the Musée de Morlaix, bequest of Mme Jouve 1948
In addition to highlighting Russell's painterly innovations, John Russell: Australia's French Impressionist is punctuated by a series of encounters Russell had with leading avant-garde artists of the day. A key moment in the exhibition, which occurs early on and sets the tone for the entire show, is a dark purple wall featuring a portrait of Vincent Van Gogh by Russell (1886) alongside Van Gogh's Self-Portrait with felt hat (1886–87). This pairing attests to the close relationship between the two men, and reminds us of the role of portraiture in tracing friendships among artists. It also reveals the impact that Russell and Van Gogh had on each other's lives and work. Indeed, Van Gogh's presence is felt at various points throughout the exhibition, including in Russell's Fisherman in blue (1904/06), which features a version of Van Gogh's 1888 The Sower (which in turn references Jean-François Millet's 1850 The Sower) depicted against one of Russell's deep-blue seascapes. This particular work reveals Russell's unique hybrid artistic style and the wealth of sources from which he drew.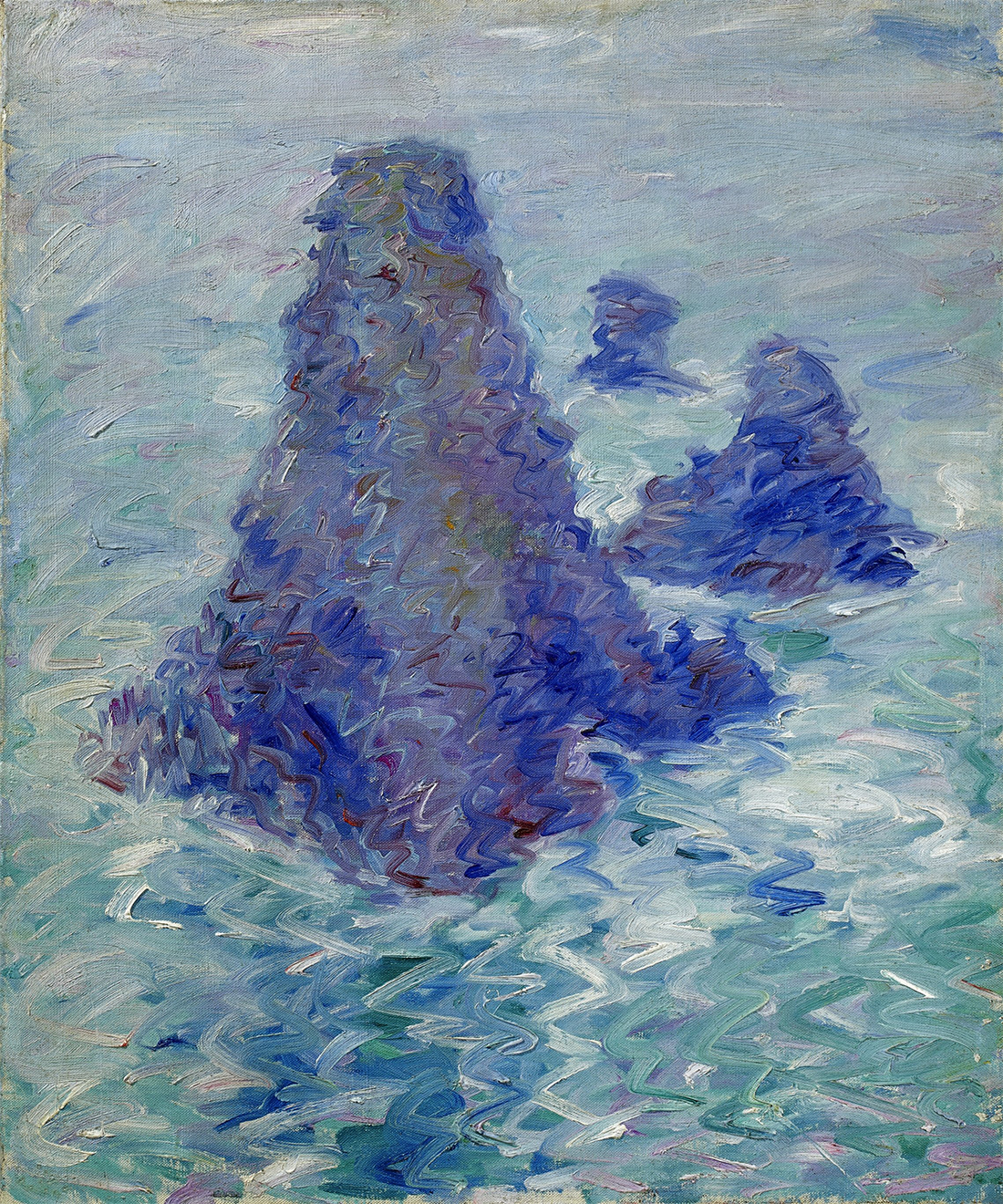 John Russell, Needle of Coton, Belle-Île, c1900. Kerry Stokes Collection, Perth Photo: ©Acorn Photo, PerthIn addition to testifying to the friendship between Russell and Van Gogh, the exhibition also connects Russell and his model-muse-lover-wife, Marianna, to the leading French sculptor of the day, Auguste Rodin. Make sure to pause in front of Rodin's sculpted busts in plaster, bronze, and silver of Madame Russell. But, above all, it is Claude Monet who is shown to have had the greatest impact on Russell's style. Visually, Russell's indebtedness to Monet is profound, despite the claim that Russell was critical of Monet for straying too far from form. Russell's paintings, like those of Monet, should be viewed both at a distance and up close. For instance, the zigzagged blue, purple, green, and white brushstrokes utilised by Russell in Needle of Coton, Belle-Île (1900) can only be properly appreciated if you get up close and intimate with the work. What distinguishes Russell's canvases from Monet's, however, is Russell's arresting and increasingly non-naturalistic colour palette. Viewed in relation to the work of Monet on the one hand and Matisse on the other, Russell's landscapes and seascapes represent an important step in the development of Impressionism into Fauvism.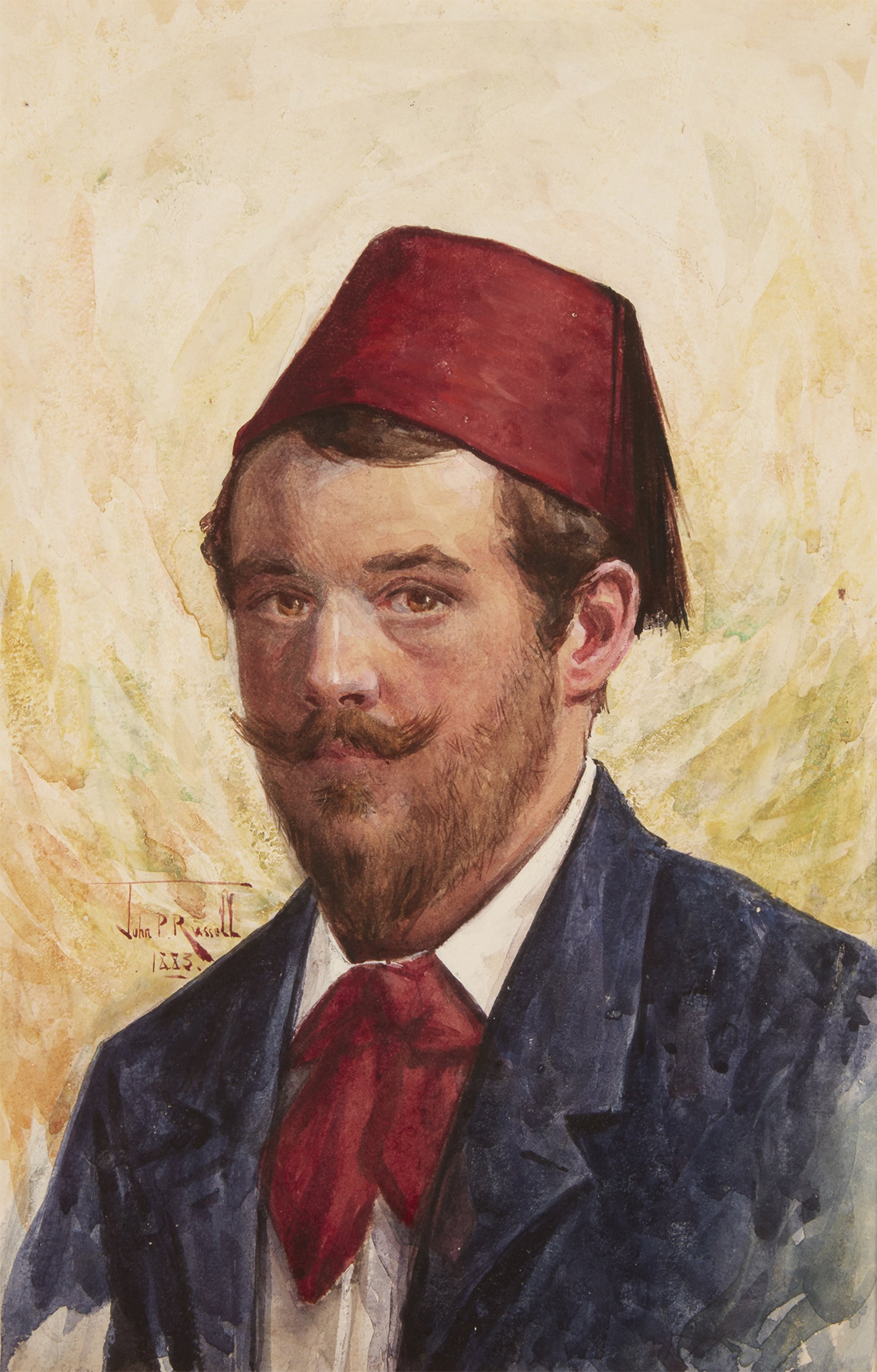 John Russell, Untitled (Self-portrait in a red fez), 1883. Private collection, Mudgee, NSW Photo: AGNSW, Jenni CarterThis exhibition offers viewers an opportunity to immerse themselves in beautiful art. But questions of identity, style, and reputation lie just below the thick impasto surfaces of even Russell's most captivating works. These are questions only touched on in the exhibition but elaborated upon in the accompanying catalogue. (The catalogue includes essays on Russell's life, art, and relationships, but also features transcriptions and reproductions of letters that went between Russell, Tom Roberts, Van Gogh, and Rodin. This alone is a valuable scholarly resource.) Given the title, John Russell: Australia's French Impressionist, one cannot help but wonder, is Russell worthy of a place in the temple of French Impressionism? And why do we continue to worship at that particular temple? As 'Australia's French Impressionist', viewers might also be left questioning what – if anything – is particularly 'Australian', or 'French', for that matter, about Russell's art and persona. It is tempting, for instance, to see in Russell's images of the rugged French coastline a resemblance to the Sydney coastline, or to imagine the lone, silhouetted figures seated on the railing of The bridge at Pecq (1887) as homesick Australians. But Russell, who barely exhibited in Australia (or anywhere for that matter), and who returned to Australia only in 1924 after the death of his first wife, confounds nationalistic and stylistic categories, much like the enigmatic James Abbott McNeill Whistler. As a result, it is not just the reputation of a single artist that is at stake here. What 'John Russell: Australia's French Impressionist' calls into question are the very terms we use to tell the history of modern art, 'French Impressionism' foremost among them.
John Russell: Australia's French Impressionist is on display at the Art Gallery of New South Wales from 21 July to 11 November 2018. An extensive catalogue on the exhibition by the same name, written by curator Wayne Tunnicliffe, is available for $45 at the gallery.

ABR Arts is generously supported by The Ian Potter Foundation and the ABR Patrons.
Author photo by Patrick Moran.