Strange and terrible events unfold around us. Conflicts erupt; catastrophes occur; a billionaire reality television performer reminiscent of a snake oil merchant is elected president of the United States. Following these destabilising forces, a chorus comprised of dissonant tones of reproach and plea often emerges: 'Where are the artists' voices?' The answer is nuanced. Singular voices are present early; Toni Morrison's haunting elegy 'The Dead of September 11' was published in Vanity Fair a month after 9/11, while Ali Smith's glorious novel Autumn (2016) appeared a few months after the Brexit referendum. Generally, though, arts requires a longer gestation.
Annie Baker's latest play, The Antipodes (2017), is mainly about something she has intimate knowledge of: story. The writing teacher's mantra 'Write what you know' features as a motif throughout, even as it is never stated. As with most good stories, the play is about many things, but one of its preoccupations is with how we tell stories about our reality. For Baker, the lens is an American one. Her accolades include a Pulitzer Prize in 2014 for The Flick, a wonderfully funny and nostalgic homage to the demise of film when it was superseded by digital, and which is also a deft study of humanity's grace and flaws (Red Stitch presented it in 2014 and 2015.) Baker, with her distinctive voice, is known for employing a kind of verbatim speech. Inane non sequiturs, circuitous conversation, silences not of the menacing Pinteresque kind but prolonged and pregnant with awkwardness and truth, mesh together to establish her character's plausibility.
In The Antipodes, which is staged in the traverse, the audience enters the writers' cave. Instead of encountering a solitary garret, eight writers gathered around a conference table, intent on creating a new television series. We know that outside these walls we are in the midst of experiencing a golden age of television history where the 'idiot box' has been elevated into art form. Littérateurs refer to the medium without embarrassment, political commentary seems to be most astute in The Handmaid's Tale, and Transparent appears to be a potent agency for social awareness.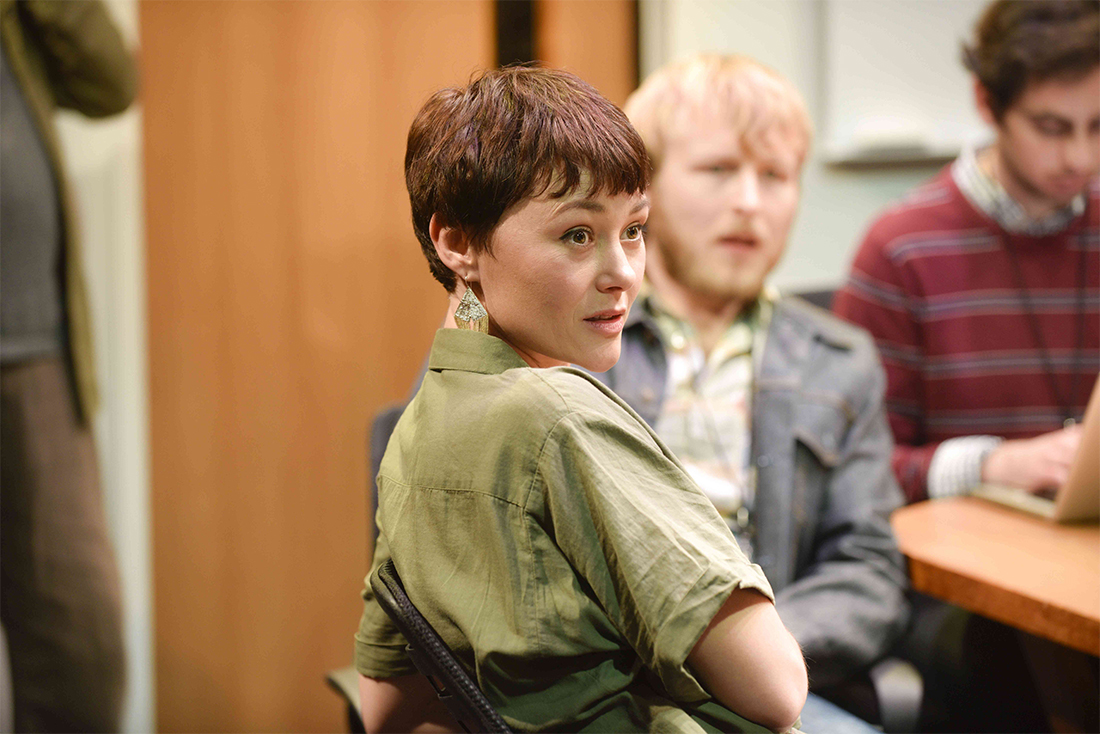 Ngaire Dawn Fair in The Antipodes (photo by Jodie Hutchinson)
Youth, for these writers, is part of their currency, except for their enigmatic boss, whose former successes includes a series entitled 'Heathens'. Sandy (Jim Daly) is prone to giving speeches on the redemptive nature of story – and his own success story. He has the power to dismiss writers, though he shows signs of frailty. One of these discarded writers, Alejandra, who is conjured by being spoken about, serves as both spectre of racism and sexism and as a warning; this might be the other writers' fate too. Power shifts are sometimes brutal, at other times imperceptible. We can imagine the writers hanging on, white-knuckled, desperate not to cede their place near the guru.
With the passage of time, indicated by one character's impressive array of wardrobe changes, and muted changes in lighting (Clare Springett and Bronwyn Pringle), the stresses of creating a series out of thin air becomes apparent. The stakes are high. Sandy declaims, 'We can change the world and we can make a shitload of money'. First they must complete their impossible task and not be gobbled up by the studio executives along the way.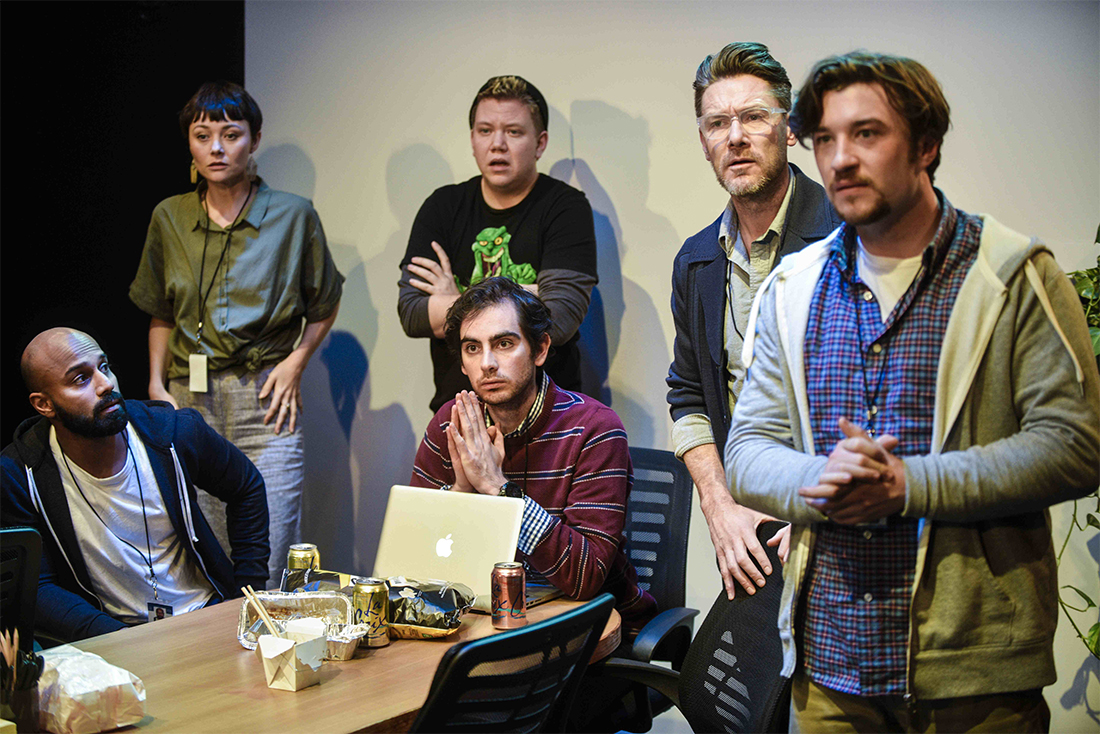 (From left) Dushan Phillips, Ngaire Dawn Fair, Harvey Zielinski, Casey Filips, Ben Prendergast, and Darcy Kent (photo by Jodie Hutchinson)
Each member of the writing team (Ngaire Dawn Fair, Casey Filips, Darcy Kent, Ben Prendergast, Harvey Zielinski, George Lingard and Dushan Philips) has his or her own personal agendas and varying degrees of ambition. The performers, under the assured direction of Ella Caldwell, are all vital presences. Danny M1's (Prendergast) pulsating energy as alpha male is both magnetic and repulsive, and his ghoulish revelations of a toxic affair provoke laughter and disgust. Fair plays Eleanor beautifully, conveying in myriad subtle ways the experience of being the sole female in the room. The team has been instructed to eschew censorship ('you don't have to be PC'); Eleanor's way is not the cut-throat machinations of others. Danny M2 (Lingard) embodies an awkwardness rendered sweet by its painfulness and Adam (Philips) becomes mesmerising, resonant with a gravitas that evades easy identification. Amongst them, Sarah's (Edwina Samuels) harried comings and goings create vibrant comic energy.
The starting point is monsters; the endpoint is the early stories we construct as children. Along the way there are nods to Robert McKee's Story, fairy tales, genesis tales, revelations of sexual encounters, myths grotesque and familiar, and meditations on time. It is a busy two hours. When Sandy reappears, battle-weary, to tell his trusty soldiers – prodigious consumers of both takeaway and probiotics – 'I don't think there are any more stories to tell … It's the worst time to tell stories', we wonder at how deep Baker's dialogue cuts. Miller dissects how we tell stories as a human impulse, falteringly, glibly, sometimes profoundly.
The Antipodes, written by Annie Baker, will be performed at Red Stitch Actors' Theatre until 12 August 2018. Performance attended: 14 July.
ABR Arts is generously supported by The Ian Potter Foundation and the ABR Patrons.