A doorbell rings. Along with the Feldman family, we are catapulted into Samuel Maoz's mesmerising drama, one worthy of its Greek tragedian and European absurdist antecedents. Deeply shocked, a woman faints and fits; a man is frozen. Their son Yonatan, a soldier, has been killed. Hell descends on the stylish apartment at 8 am. We know this because one of the three solicitous soldiers, emissaries of tragedy, have set the father's phone to beep every hour so that he is reminded to drink water. He must drink. There are protocols for loss. After all, it happens regularly.
In David Grossman's novel To the End of the Land (2008), another Israeli tragic masterpiece, the hero Ora is beset by anxiety: that she will be informed of her soldier son's death. She flees her apartment to evade this inevitability, or perhaps to magic it away. If she is not there to receive the news, it may not become a reality. To the End of the Land was rendered doubly mythic by its prescience; while writing it, Grossman was informed of his son's death in the 2006 Lebanon war. Foxtrot begins by encountering this horror up close, in a domestic space. It is an Israeli societal fear that runs deep, particularly among families whose children serve in army combat units.
Foxtrot, apart from its framing device, resembles a three-act play, particularly in its first and concluding scenes. For much of the first act we witness the father Michael's rapid dissolution, while his wife, Dafna, lies on their bed, heavily sedated. Michael, played by Lior Ashkenazi (Footnote, Late Marriage), attempts to sublimate his grief by enacting small violences upon himself and his doting dog, but finds he cannot. Maoz and cinematographer Giora Bejach make accomplished use of the close-up and the extreme close-up throughout the movie, as they did in Lebanon (2009). It is no coincidence that Ashkenazi, one of Israel's most recognisable film stars for both talent and dashing looks, has been cast in this role. His depiction of a successful man whose life has been upended – further signified by disorienting camera angles and the sensation of falling into the vortex of a geometrical painting – is profoundly affecting. A young ineffectual soldier from the rabbinate briefs Michael on the protocols of the funeral, informing him that 'the mother' will be most affected; 'after all, we're men'. Maoz's exploration here is of the archetypal Israeli male of which Ashkenazi is an icon.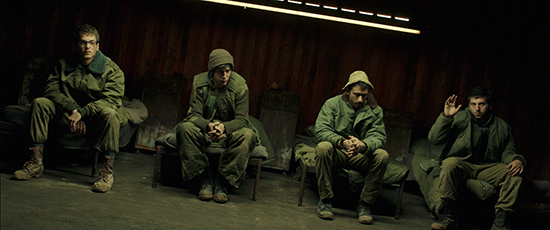 A still from Foxtrot (Sharmill Films)
A spirit of absurdism occupies this film from its first twist to references to military euphemism; much is made of the language employed for the 'fallen' soldier (in Hebrew the word 'nafal' holds the same double usage as English). This style is heightened in the middle section, which takes place in a desolate landscape where four young male soldiers guard a roadblock. Such is the remoteness of the location that a boom gate rises for a passing lone camel. Bejach's camera captures the strange beauty and impenetrability of the desert landscape. But the mud is ubiquitous, intractable. A container housing the soldiers is sinking. Like a horror film, a viscous fluid threatens to erupt from the ground. Is it the land or nature itself, threatening to swallow its inhabitants or cover them without leaving a trace? Is this 'God's revenge', as one character laments in the film.
As in Waiting for Godot, the waiting involved in these soldiers' lives is interminable but punctuated by bleak humour. Inertia and ennui are palpable, as are teenage male hormones, something that Maoz has previously explored.
Foxtrot contains strong condemnation of the Israeli Occupation over Palestinian territories – the manner in which it corrupts the nation's morality and dehumanises its subjects – but to reduce it solely to this would be a mistake. Maoz means to make the experience discomforting for his fellow Israelis and viewers bearing witness. The bold use of the gaze as Palestinian characters look back at the checkpoint's soldiers, including Yonatan (played with impressive vulnerability by Yonaton Shiray) reveals the indignities that emerge with such intense surveillance and policing. The expression of those subject to such checks range from intimidation, resignation, and rebellion. One memorable scene restores dignity to a Palestinian couple by a manifestation of love amid a deluge of rain, whilst highlighting a banal cruelty.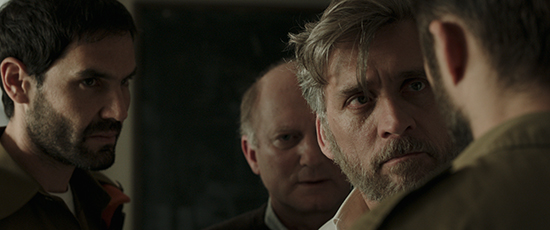 A still from Foxtrot (Sharmill Films)
Surprisingly, Foxtrot, which won the Grand Jury Prize (Venice Film Festival 2017), is as much about love as about tragedy. There is a romantic glaze to the film, one of acute nostalgia: Jessica Rabbit as object of desire; a smiling vintage pin-up incongruous in its glamour adorning the guard van; mysterious velvety tones of a radio host; the frisson of an unlikely flirtation; recollections of early stages of love. Unlike Lebanon, a brilliant and visceral experience, there is a complex female presence in Foxtrot. Michael's mother, a German survivor of Auschwitz, is unable to give succour to her son. But once woken from sedation, Sarah Adler is luminous as Dafna; her spirit is transfiguring. Love shatters, transmutes, an incandescent flare in the dark.
Amid this devastation, Foxtrot is gloriously and audaciously tender.
Foxtrot (Sharmill Films), 113 mins, directed by Samuel Maoz. In cinemas from 21 June 2018.
ABR Arts is generously supported by The Ian Potter Foundation and the ABR Patrons.