Thirty years old is a difficult age for a play in this country. Australian cultural memory is not exactly short, but it certainly tapers in the middle where such plays lie, flanked on one side by The Canon and, on the other, by The Next Big Thing. Andrew Bovell's After Dinner – initially a melancholic one-acter for three women, later expanded and recast by the playwright for his drama school peers as a sort of boulevard comedy – feels exceptional in this regard: a not-quite-new, not-quite-old Australian play that has nevertheless entered the repertoire. On its completion in 1988, it played in Melbourne for almost half a year and seems to have been produced uninterruptedly since, including by Sydney Theatre Company as recently as 2015. In Bovell's program note for this solid revival by the State Theatre Company of South Australia, he describes it, not wrongly, as 'a classic comedy of the Australian theatre'.
No doubt the play's endurance owes something to Bovell's bankability – at fifty-five, he is one of the country's most popular storytellers for both stage and screen – but its emotional truthfulness and grasp of human fallibility remain undimmed, even as the whole landscape of dating, post-AIDS, post-Tinder, post-#MeToo, has radically changed since the late 1980s. For all its broad comedy, now unavoidably seen through the softening lens of period nostalgia, the play's sexual frankness and shocks of recognition still register. It is remarkable to think Bovell was just twenty when he wrote its first iteration. Which is not to say that the play is ideal: there is a kind of unreflecting quality to the writing, and there are moments when the male characters, Gordon and Stephen, feel underdrawn or tacked on, sometimes disappearing from the stage altogether for jarringly long periods of time. It is its humanity, its unrelenting but ultimately sympathetic, and even redeeming, portrayal of vulnerability and isolation that makes it of a piece with Bovell's later, more assured and structurally sounder work.
I approached this revival, directed by Corey McMahon, with some trepidation in the light of Melbourne Theatre Company's recent, much-reviled production of Mike Leigh's Abigail's Party, which several critics dismissed as a hollowly camped-up 1970s nostalgia trip. Like After Dinner, Leigh's play makes comedic hay out of a sort of aspirational lower middle class, but threatens, in the hands of the wrong director, to simply look down its nose at such people, reduced to caricatures to be laughed at rather than with. That these plays can only function on the contemporary stage as nostalgia pieces runs a further risk: by pandering to the wincing pleasure audiences take in recognising period trappings – the music, clothes, food, and décor that, seen in a certain light, all seem hopelessly parochial and unsophisticated to us now – they become the theatrical equivalent of those cheap television shows in which middle-ranking celebrities reminisce about how wacky everything was in the 'good old days'. As it is, McMahon's only misjudgement is not one of emphasis or tone – the performances he draws from his cast, most of whom have worked together before, are pitched at about the right level of heightened naturalism – but of casting. Despite their comic flair, Nathan Page and Rory Walker, as the Lothario Stephen and the beta male Gordon respectively, are clearly older than the mid-thirties age range Bovell's script stipulates, which makes for some uneasy pairings with the women (who themselves, it must be said, appear somewhat age-disparate).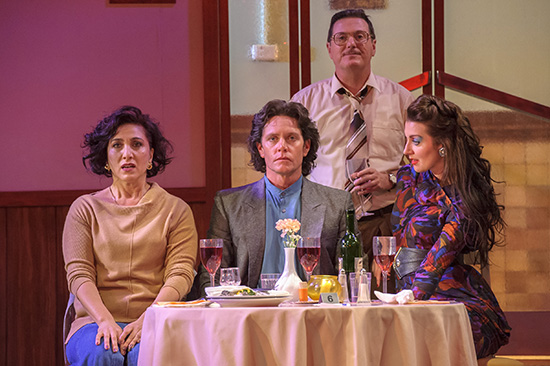 Elena Carapetis, Nathan Page, Rory Walker, and Ellen Steele in State Theatre Company of Australia's After Dinner (photograph by Chris Herzfeld)
Nevertheless, each of the actors impresses. As the unstable, recently widowed Monika, Elena Carapetis once again demonstrates her talent for portraying psychologically troubled women, exactingly tracing her character's journey – via a hilariously recounted off-stage escapade fuelled by Valium – from existential crisis to sexual liberation. Seemingly channelling Jane Turner's Kath Day-Knight, Jude Henshall provides the night's broadest performance in the shape of the obstinate Dympie, while Ellen Steele as the flirtatious Paula does well to find the underlying sadness of the least well-drawn of the female characters.
After Dinner may, after all, resemble a comedy of manners, but these are not happy people. Rather, as this production's opening image makes clear – Gordon alone, marooned among a sea of empty tables in Jonathon Oxlade's wonderfully dowdy pub bistro set – Bovell's play characterises the mid-thirties as a lonely, socially fraught place. Underneath the characters' literal and figurative jockeying for various positions – at the bistro itself, so that they can see the band better 'after dinner', and also at their low-level white-collar workplaces – can also be detected Bovell's keen grasp of status anxiety. Meanwhile, many of the play's jokes both amuse and discomfit, taking for their subjects marital and sexual dysfunction, and, at a deeper level, our difficulty in meaningfully connecting with each other. (There is even, in Gordon's fleeting confession about the behaviour of a school teacher, the suggestion of a traumatic but repressed sexual assault.)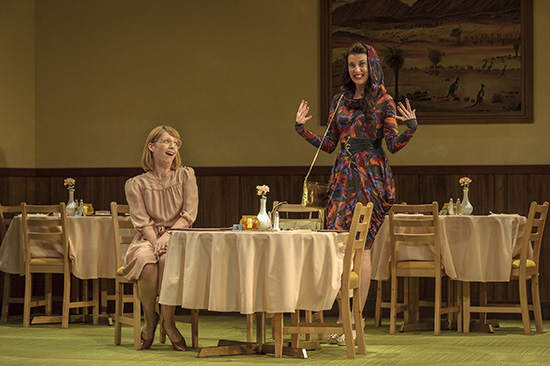 Jude Henshall and Ellen Steele in State Theatre Company of Australia's After Dinner (photograph by Chris Herzfeld)
Bovell has said that he has seen audience members falling out of their seats with laughter at his play. It is certainly very funny. But the script's final image, faithfully replicated by McMahon, tells a different story. Monika and Stephen having left the bistro for a no doubt unsatisfying one-night stand, Dympie and Gordon embrace, the latter gazing longingly not at his partner but at Paula, dancing alone to the band.
After Dinner (State Theatre Company of South Australia), is being performed at the Dunstan Playhouse from 7 to 29 April 2018. Performance attended: 11 April
ABR Arts is generously supported by The Ian Potter Foundation and the ABR Patrons.