Madnesses pile up in The Death of Stalin, too fast and too numerous to itemise. Victims of tyranny are snatched away in the dead of night, locked in basements, or pushed down staircases at Chaplinesque speed. The terms of engagement change halfway through a conversation: forbidden thoughts are now doctrine; the condemned rise again. 'I've had nightmares that make more sense than this,' laments one lackey.
Those familiar with the work of director and co-writer Armando Iannucci will know, to some degree, what to expect from The Death of Stalin: a part improvised, expletive-laden ensemble comedy, its tone black as tar. But the film also represents a departure for the director, whose best-known works, The Thick of It and Veep, are television satires of contemporary British and American politics, respectively, shot vérité-style in drab and interchangeable backrooms. The Death of Stalin, adapted from the French graphic novel by Fabien Nury (2017), is Iannucci's first historical comedy, and his most cartoonish. These corridors of power are marbled and cold; military uniforms and grandiose moustaches abound. But there remains, for the contemporary viewer, a queasily familiar sense of being exhausted by the pace of daily outrages.
The film opens with a prelude that is also a study of the dictator's power to recast reality on his own terms. One night in 1953, as a Mozart recital is being broadcast live by Radio Moscow, Comrade Andreyev (Paddy Considine), a station employee, takes a phone call. Comrade Stalin (Adrian McLoughlin) wants a recording of the performance. A small problem: the recital hasn't been recorded. Cue panic as Andreyev, the orchestra and the audience collude to construct a false documentary trail. Truth isn't an option; all must dissemble, and so all are caught in Stalin's surreal and infernal machinery.
Meanwhile, on the other side of town, members of the Central Committee try to win favour with their leader. Nikita Khrushchev (Steve Buscemi) blusters; Vyacheslav Molotov (Michael Palin) bows and scrapes. Georgy Malankov (Jeffrey Tambor), ostensibly Stalin's deputy, is nerve-wracked and incompetent. The only real power aside from Stalin's lies with Lavrentiy Beria (Simon Russell Beale), the head of the NKVD, the Soviet interior ministry that oversees the mass arrests, the forced labour camps, and the extrajudicial killings. Russell Beale, who never met a role he couldn't knowingly underplay, moves through every scene as smooth and as deadly as a shark in deep water.
In a world like this, circumstances can only go from bad to worse, and so they do when Stalin, shortly after receiving his Radio Moscow recording, suffers a massive stroke. He is not quite dead, and then he is, and then he isn't. And then he is. It takes a hastily assembled committee of bad doctors (the only ones left in Moscow; the rest are already in the gulags) to make a final determination. As Stalin's body lies on the autopsy table, a newly desperate scramble for power gets underway amid his underlings.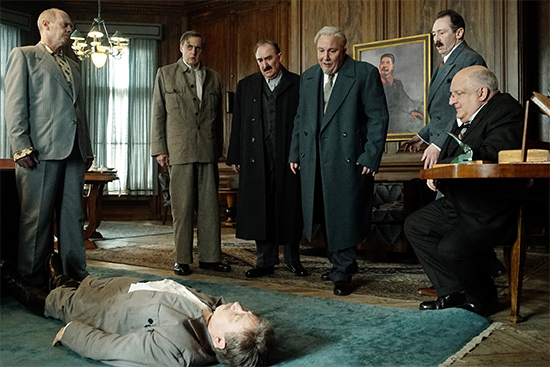 Iannucci has been faulted for the historical liberties he has taken in the script (the Radio Moscow incident, for instance, took place a few months before Stalin's stroke), but The Death of Stalin is obviously a farce, in the best sense; the primary aim is never verisimilitude. The film shares something of the attitude and atmosphere that pervades a work like Dario Fo's Accidental Death of an Anarchist, where a funhouse distortion of real events also reveals the fatal cost of a world run on lies. 'This is just fucking wordplay,' complains Malankov during one argument with his Central Committee comrades, but this wordplay is also a terrible kind of world-making, and unmaking; to speak the wrong word here could be fatal.
The farcical, tongue-twisting nature of proceedings is only heightened by Iannucci's decision to have his ensemble cast speak mostly in their own accents, as if they were playing sinisterly exaggerated versions of themselves. Adrian McLoughlin, an East Londoner, plays Stalin as a crude Cockney, while Buscemi does Khrushchev in his Brooklyn whine, as if this Russian were a minor player in the Mob. Tambor demonstrates the same well-spoken Californian fastidiousness that previously marked his performance in the television show Transparent; there are fleeting moments when you want to feel sorry for Malankov, but he is too materially spoilt, too blind to his own sins. Jason Isaacs, a native Liverpudlian, hams it up just a bit as Field Marshal Zhukov, head of the Soviet Army, who now speaks like a Yorkshire yeoman. All these characters and more come together for the climactic set-piece of Stalin's funeral, where abundant red drapery can hardly hide the bloodiness of the various plots and counter-plots being pursued by the mourners.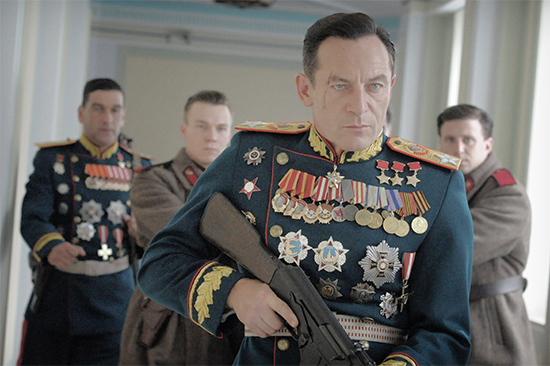 The Death of Stalin isn't quite an allegory for contemporary politics; if it were, it would probably be more didactic than funny, and it is hideously funny, right through to its inevitably grotesque end. But the film's banning in Russia, for 'violating the dignity of the Russian people', is a pertinent reminder of the intolerableness of laughter to those, like Vladimir Putin, whose power depends upon the maintenance of fear. Nor can one rest easy in the thought that an authoritarian strongman is the preserve of distant countries, in distant times.
The Death of Stalin (Madman Entertainment), 107 minutes, directed by Armando Iannucci. In cinemas from 29 March 2018.
ABR Arts is generously supported by The Ian Potter Foundation and the ABR Patrons.