Antony and Cleopatra (first performed circa 1607) is one of Shakespeare's most poetic plays, full of imagery of exotic Egypt with its crocodiles and serpents, its River Nile and, of course, Enobarbus's extravagant speech describing Antony's first sighting of its queen: 'The barge she sat in, like a burnished throne/ Burned on the water ...' It also has one of the strongest and most demanding parts for a woman to play: Cleopatra, with her emotional storms and teasing wit, 'her infinite variety' of moods.
Last year, Bell Shakespeare presented two brilliant productions – Richard 3 and The Merchant of Venice – building anticipation for its new season. Perhaps resting a little on his laurels, director Peter Evans has decided to give Antony and Cleopatra a similar treatment to Richard III, with a single contemporary set and actors in modern dress. There is no attempt to depict Alexandria or Rome, nor any suggestion of an ancient world. Instead, the audience is confronted with an oval stage area surrounded by two sets of transparent muslin curtains. We seem to be looking into one of those bland hotel function rooms where everything is grey or beige, with the odd pinkish highlight. A middle-aged couple embraces on a lounge chair, perhaps conducting one of those dismal hotel room affairs. They are Antony and Cleopatra. They speak of their love, and the curtains are drawn back so that the audience can see their faces and the colourless world they live in.
You may have been to one of those function-room conferences. Everyone wears suits, apart from a few women who make up for it with dangerously high heels. Are these the people who run the world, or merely the slaves of some dreary office culture? Evans suggests the former. As the helpful projections on the curtains tell us, these people rule the whole Roman world as a triumvirate that is in the process of splitting apart. The woman lolling on the beige armchair in her dishevelled black suit is Cleopatra, the queen of Egypt.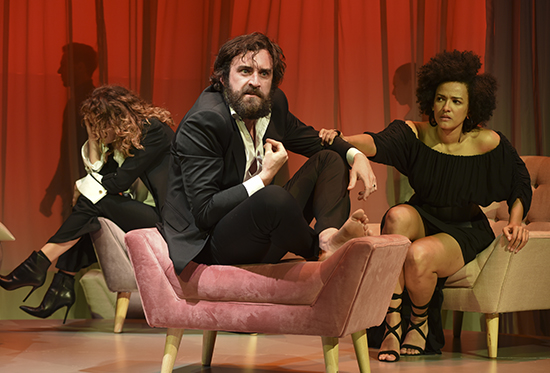 Catherine McClements, Johnny Carr, and Zindzi Okenyo in Bell Shakespeare's Antony and Cleopatra (photograph by Heidrun Lohr)
It is a lot to ask of actors to carry the energy of such a long play against such an unforgiving set and unimaginative costumes, though Antony and Cleopatra is such a great play that clear delivery of its lines might be enough to keep an audience engaged. Johnny Carr's Antony speaks in a slightly muffled style that might just get by in a city boardroom, though his bushranger beard would be out of place there and in ancient Rome. Catherine McClements's Cleopatra adopts the nasal intonations of a moody housewife. It is only when Gareth Reeves enters as Octavius that we begin to hear the modulation and excitement of Shakespeare's text. Ray Chong Nee as Enobarbus joins him in lifting the play from its hotel doldrums by delivering the famous speech with full flourish.
Some ideas work. The setting of Pompey's reconciliation party on the central oval rostrum, with the inner curtains drawn, suggests the isolation and potential dangers of life on a ship, but it is difficult for Lucy Goleby, playing Pompey as a woman, to manage the sense of equal power in drinking camaraderie with the men. There are moments when McClements gets up from an armchair to stand tall and almost appear regal.
The scenes where the Romans discuss the couple have the most life in them because that is when the play tells us about Antony's and Cleopatra's legendary pasts, with Octavius marvelling at Antony's self-discipline as he endured near-starvation after battle (drinking horse urine, eating bark) and various Roman men fantasising about Cleopatra. To the Romans they are living embodiments of the rival masculine and feminine powers represented by Mars and Venus. Antony, though, has abandoned his masculine code for the soft life among the lounge chairs. Cleopatra remains true to her feminine wiles, though she overreaches in her final ploy in deceiving Antony.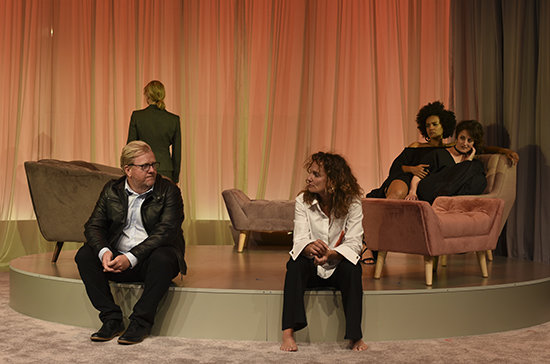 The cast of Bell Shakespeare's Antony and Cleopatra (photograph by Heidrun Lohr)
As Octavius's forces encroach in the last scenes of the play, the production seems to abandon it completely as rock music blasts out, the lighting turns red, and the players all bounce around to the music. It hastens its way through Antony's ignoble suicide, then staggers on to the scene where Cleopatra and her servants tease the clown who brings her the asp.
Evans assures us in his program notes that Shakespeare's characters are 'just like us', though the play insists that they are bigger than us – more heroic, more seductive, with a greater appetite for life, and a lot further to fall. Evans's production seems intent on bringing them down to our size. But who can care about the fate of a powerful man who succumbs to the sensual pleasures of a love affair? Nowadays, that story has become banal.
Antony and Cleopatra (Bell Shakespeare), directed by Peter Evans, continues at the Sydney Opera House until 7 April 2018, and will be performed at the Canberra Theatre Centre 12–21 April and at the Arts Centre Melbourne 26 April–13 May. Performance attended: 8 March.
ABR Arts is generously supported by The Ian Potter Foundation and the ABR Patrons.