In a Festival glutted with plays about war and the violence wrought by powerful men, Dutch theatre company Toneelgroep's Kings of War stands tall. A four-and-a-half-hour conflation of Shakespeare's Henry V, Henry VI, and Richard III, it is directed by Ivo van Hove whose monumental Roman Tragedies – which conceived Shakespeare's Roman history plays as an immersive treatise on contemporary power politics – was seen in Adelaide in 2014 in a production that has, rightly, acquired almost legendary status.
Kings of War wears the same spots. Returning audiences will recognise Bart Van den Eynde and Peter Van Kraaijs's lightly modernised text (Dutch with English surtitles), van Hove's filmic sense of space, and his liberal use of live sound and supersized video, much of it captured by a roving cameraman. While both works are epic in scale and concerned with the machinations of leadership and power, Kings of War feels leaner, its sweep more contained, running almost two hours shorter and lacking some of the Sturm und Drang of its predecessor. The women's roles are more attenuated here: good parts, like the fierce, intelligent Margaret of Anjou – superbly played by Janni Goslinga – feel less significant than they do in Shakespeare's plays, and there is none of the Roman Tragedies' enlivening gender-swapping, which saw, for example, a female Cassius in Julius Caesar.
For all its visual invention, I can't remember an image from Roman Tragedies as striking as that which nearly closes Kings of War: a video screen displaying the victims of Richard III (Hans Kestings) slowly fading to a blood-red wash as the deformed king, rendered in silhouette as his final moments in power are counted down by a metronome, howls the famous speech, elongating the Dutch word for 'horse' into a repeated, unnerving death rattle. It is the kind of moment, typical of van Hove at his most alchemical, that makes the hairs on the back of your neck stand up.
Mostly, though, Kings of War unfolds in the novelistic manner of long-form television drama (by comparison, Roman Tragedies is the same length as Top of the Lake), more compelling in its subtle, slow-burning shifts of psychology and plot than anything else. Accordingly, the large ensemble gives nuanced performances pitched halfway between the filmic and the theatrical, their words amplified by head mics, their facial expressions subject to revealing close-ups. The play emphasises the individual differences in leadership styles between the three kings – Henry V (Ramsey Nasr), officious, and awkward with women, as shown in perhaps the play's best comic scene, when he attempts to woo Katherine of France (Helene Devos) over dinner; Henry VI (Eelco Smits), deferential; Richard III, ingratiating and, ultimately, fearsome. But it also reminds us of the way power, whether inhering in royal dynasties or elected governments, subsists in continuities, here illustrated by a repeated ritual that sees the red carpet rolled out for each new king, crowned and draped in ermine. Contemporary resonances abound, from Henry V's references to the folly of starting wars in foreign lands (Iraq, anyone?) to Kestings's Richard III, who cannot but be compared to Donald Trump in his shameless grotesquery.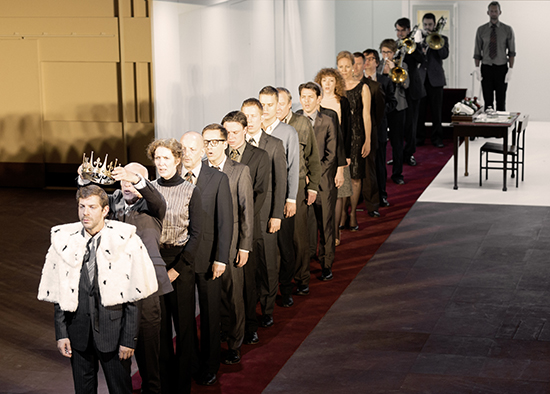 Kings of War (photograph by Jan Versweyveld)
The set by long-term van Hove collaborator Jan Versweyveld is a sprawling, finely detailed war room that increasingly resembles a bunker of last resort as, during successive reigns, the trappings of office are stripped away to expose the vulnerable human centre of power. A network of gleaming white corridors extends beyond what we can see on stage and is the site of immaculately intercut live and pre-recorded scenes that are projected onto a giant video screen. The camera transforms these offstage spaces into documentary television spectacles – at one point, for example, taking us into the trenches at Agincourt – but it is also used by the solider–politician Henry V and others to manipulate the viewing public (although, intriguingly, Henry's St Crispin's Day Speech, often rendered propagandistically, is here unheroically disembodied, taking place on an empty stage via voiceover).
Composer Eric Sleichim's booming electronics and a four-piece brass ensemble, embedded in a sort of dugout and hidden at first behind a sliding panel, add gravitas to the proceedings, while counter-tenor Steve Dugardin stalks the action of the play like a cross between a musical chorus and the Angel of Death, his soaring hymnals portending doom. I have already mentioned Goslinga's Margaret, and Kestings's Richard III – on a par with his extraordinary turn as Mark Antony in Roman Tragedies – but each performance is perfectly measured, a reminder that, for all their conceptual boldness, the consistent success of Ivo van Hove's reimagined classics lies in their superlative ensemble playing.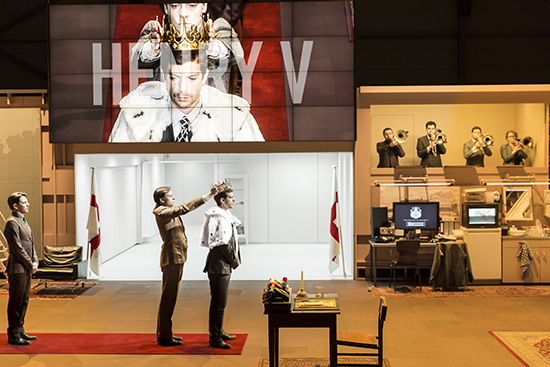 Kings of War (photograph by Jan Versweyveld)
Kings of War may open with a potted history of England's royal line, but ultimately it feels like a play not about history, nor even really about war, but about the way personality, cynically untethered from any notion of the common good, intersects with power to the detriment of all. From Australia's recent leadership churn to the global duet between a narcissistic former reality TV show host and an authoritarian macho man, its contemporary echoes are unmistakable.
Kings of War, directed by Ivo van Hove, was presented by Toneelgroep at the Festival Theatre during the Adelaide Festival, 10–13 March 2018. Performance attended: 11 March.
ABR Arts is generously supported by The Ian Potter Foundation and the ABR Patrons.