Edward Elgar's great work of poetic soul-scouring and symphonic grandeur had a mired reception at its première in Birmingham in 1900, years before Stravinsky's Rite of Spring sparked its famous riot in Paris in 1913. Both composers had stretched the tolerance of their audiences, requiring open minds and an ear for new tonalities. Elgar had the additional misfortune of an insufficiently prepared chorus, hoarse soloists, and an under-rehearsed orchestra – a disaster for a work as ambitious as The Dream of Gerontius, which requires peak performance from all of its massed resources.
Stravinsky went on to change the musical landscape. Elgar found the appreciation, and the performance his work warranted, first in Germany (in a German translation), in Düsseldorf, in 1901, and again in 1902, when he was toasted by Richard Strauss: 'I drink to the success and welfare of the first English progressive Musician, Meister Elgar.' 'Meister Elgar' was an outsider, by class and religion, in his own country, so the accolade – from a European composer of such renown, and one Elgar revered – was crucial. By 1903 the English had come round to acknowledging their own, and Gerontius had its first London performance in (the Catholic) Westminster Cathedral, in 1903. Subsequent performances in England became embroiled in doctrinal sensitivities – the text, by the nineteenth century's most famous Anglican convert to Catholicism, John Henry Newman, led various Anglican clerics to demand some expurgation before they would allow the work to be performed in their cathedrals and churches. And for a time, the Catholic Elgar complied. Needs must?
In Melbourne, a century on, there was no stinting of resources, and no trifling with the text. Under Andrew Davis's baton, this supremely English work was given its full English voice in a triumphant Australian performance. Elgar is home territory for Davis – you can see it in his rapt expression and almost choreographic marshalling of his orchestra, soloists, and choirs. He knows this work in his bones and is able to elicit a quite extraordinary depth and sonority from the Melbourne Symphony Orchestra, in its combined sound and in the individual instrumental voices that are so eloquent and important in Elgar's integrated compositional technique. In Gerontius, the interplay of orchestra, soloists, and chorus is seamless, no one element dominant, or subservient to another. The orchestra is a player, never just accompaniment. The MSO's performance had exactly the required sense of ebb and flow, even in moments of acute focus, when the horns sound a dark presaging, the tenor voice lingers in a transporting pianissimo, or the double basses drum out the approach of judgment.
Music is a sublime mathematics of sound, sometimes evoking, even wrestling with, the abstractions and emotions of human experience, with passion, with angst. That's there in Elgar. But also in his music, and markedly in this performance, is a pervasive sense of the natural world, and of the English natural world in particular. There is a susurrus of river flow, of dawn birdsong, and of the elegiac settling sounds of an English dusk. Newman's text is profoundly intellectual, and yet Elgar's musical setting embeds it in the earth even as it aspires to otherworldliness. Strange. But then this is a very strange work.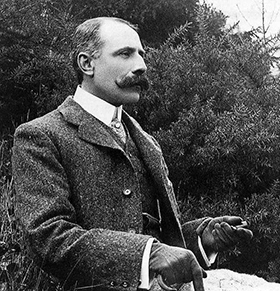 Edward Elgar (Wikimedia Commons)The strangeness inheres in the text (I think we no longer hear Elgar's chromaticism, or his orchestral innovations as odd, let alone offensive to our ears – though they retain their capacity to surprise). Newman's famous poem about an old man's (everyman's?) mortality, his sense of guilt, his death, and then the strange, suspended, out-of-body period before judgment, shadowed as it is by thoroughly bodily terrors, temptations, and lit by the intercession of a guiding and guarding angel, is complicated further by Newman's theology of grace and his notion of Purgatory. Dante would not have had any problem with the theological schema, but a twenty-first-century audience might. And for English speakers there is not the convenient scrim of unfamiliar German, Italian, or Latin to render the text into glorious and forgiving scat. The critical practice now seems to be to universalise Newman's very particular religious sensibility and theology into a general commentary on our fear of death, our longing for transcendence. A pity, I think. The history of both poem and its music is more complex. And more interesting. (Elgar did not, thank heaven, use all of Newman's long poem. Wagner certainly influenced his music, but English discretion would have told him that one Ring is enough for the world.)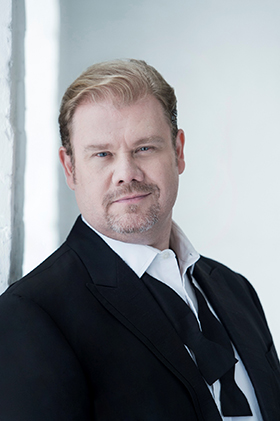 Stuart Skelton (photograph by Sim Canetty Clarke)Stuart Skelton, whose heroic tenor grows more subtle and flexible each time we hear him in Melbourne, sang the title role with the deftness and expansion that his remarkable voice allows him. Every nuance of emotion was registered, without strain, often without gesture – the voice did it all. His dynamic range is so extraordinary you begin to take it for granted (until you listen to other tenors, even on famous recordings of Gerontius). He navigated the more conceptually dense theological passages ('A uniform / And gentle pressure tells me I am not / Self-moving, but borne forward on my way') in a way that made them lucid and convincing. And in the duet passages with mezzo-soprano Catherine Wyn-Rogers (who recorded Gerontius with Daniel Barenboim in 2017, for Decca), he was perfectly attuned to the other voice – musicianship at its finest. It was a pleasure to hear them both (again under Davis's baton) last year in Mahler's Das Lied von der Erde, but Gerontius provides both singers with more scope for subtlety of interpretation.
Wyn-Rogers's voice is golden, and her stage presence so powerful in its restrained dignity that one can believe that her angel is indeed the 'him, [the] Mighty one, my Lord, / My Guardian Spirit' that Gerontius hails in the second part. Her articulation is a match for Skelton's – every word given its full meaning and roundness of sound. And when the work draws everything together at the end, musically and emotionally, Wyn-Rogers has the great reconciling poem 'Softly and gently' to sing to the soul of Gerontius. If her beautiful voice did not flower fully on the high notes of the earlier 'alleluia', here it expands and rolls like a great wave to a receiving shore. To her 'brother dear', she sings:
And thou, without a sob or a resistance,
Dost through the flood thy rapid
passage take,
Sinking deep, deeper, into the dim
distance.
Angels, to whom the willing task is given,
Shall tend, and nurse, and lull thee, as
Thou liest;
Did Newman, did Elgar, think of Horatio's 'Good night sweet prince / And flights of angels sing thee to thy rest'? Hamlet's trials are the precursor of Gerontius's agonies. We live still with variations of both.
The third soloist, bass-baritone Nathan Berg, in the vocally and dramatically demanding double role as the Priest and the Angel of Agony, was resonant and sustained – equal to both parts. I understand the economics, but I do wonder if the perfect performance might not see two contrasting voices (as has sometimes been done) in these very different roles.
Elgar's Gerontius exists in a world, even an afterworld, of sound and action, desolation and consolation. It takes a mighty orchestra and huge combined choirs (Davis has maintained the vast Romantic scale) to create that world, in its tumult and in its poignant stillness. No wonder Elgar's inaugural Birmingham choirs found his fugal passages challenging: they are. His choral score is complex, yet always purposeful, never merely additive or decorative. The MSO Chorus and Trinity College Choir sang with all the agility, control and strength that the work requires. One can only wish that the composer had been there to hear what two fine chorus directors and a master conductor in consummate control of his orchestra made of his music – English music performed on the other side of the globe, and to an audience that held its breath at the end for that prolonged period that signals wonder and awe.
The Dream of Gerontius, conducted by Andrew Davis, was presented by the Melbourne Symphony Orchestra at Hamer Hall, Arts Centre Melbourne on 8 and 10 March 2018. Performance attended: 8 March.
ABR Arts is generously supported by The Ian Potter Foundation and the ABR Patrons.