There is something about nightclubs that appeals to filmmakers. The work of American directors like Martin Scorsese and James Gray is riddled with them. In 2017, the Cannes-storming AIDS activism drama BPM (Beats Per Minute) featured a group of friends who spent most nights in clubs; places where identities are subsumed in the dark but that are also communal, just like the movies.
Now we have the Chilean film A Fantastic Woman, one of five nominees for best foreign-language film at this year's Academy Awards. It's about a transgender nightclub singer, Marina (Daniela Vega). A pivotal scene has her leading a highly choreographed chorus line on the dance floor. Like BPM, the film cleverly weaves moments of dreamlike symbolism into what could otherwise be mistaken for a slice of life.
The director is Sebastián Lelio, whose previous feature, Gloria (2013), made a splash on the festival circuit. Like that film, A Fantastic Woman touches on the difficulties of dealing with a romantic partner's previous life and family. When we meet Marina, she is in a happy relationship with an older man, Orlando (Francisco Reyes), but when he dies she becomes an object of scorn and suspicion, forced to deal with her lover's embittered ex-wife, who wants Orlando's car, and his son, who wants the apartment. Waitressing by day, she is visited by a female police officer (Amparo Noguera), who forces her to come to the station and strip, so that the forensics guy can take photographs.
The word for 'genre' and 'gender' is the same in Spanish ('genero'), as Lelio likes to point out, and his film is many things at once: a Sirkian melodrama popping with colour, a contemporary social drama set in Santiago, even a ghost story. Orlando reappears in Marina's rear-view mirror, or in the bowels of a crematorium. But the escalation of indignities heaped upon Marina also makes it feel like one of those queasy thrillers in which things go from bad to worse for the unlucky hero or heroine.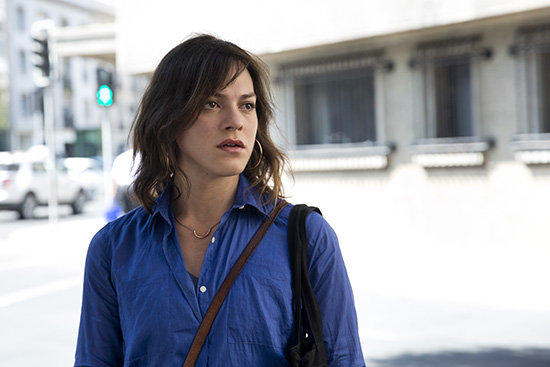 Daniela Vega in A Fantastic Woman (Sony Pictures)
After being unceremoniously ejected from Orlando's funeral, Marina is walking home when a 4WD driven by his son pulls up and bundles her into the back where two goons wrap her face in tape before dumping her onto the side of the road. She seeks refuge in a club, where an anonymous hook-up takes the edge off, briefly. Afterwards, she washes up, sodden and homeless, at her sister's place, where her brother-in-law eyes her with here-we-go-again forbearance.
Lelio is unafraid of the direct metaphor. A signature scene has Marina pummelled by the wind, bending forward at an acute, gravity-defying angle like a silent-movie mime. The inclusion of The Alan Parsons Project song 'Time' (about a truncated love affair) and Aretha Franklin's '(You Make Me Feel Like) A Natural Woman' seem direct, not unsubtle, and as unashamed as the lead character.
So unceasing is all the aggression (micro or otherwise) directed at Marina that it is a relief when we meet her singing teacher (Sergio Hernández), whom she embraces like a parent. Vega – a singer as well as actor – is electrifying in Marina's two performances. The lushness of A Fantastic Woman's musical palette is arguably its defining feature, beginning with a prelude at Iguazu Falls, where Orlando and Marina had planned a holiday. Cutting between different angles of this natural wonder, Lelio introduces the shimmery string-based orchestral score from English electronic musician Matthew Herbert, swelling up and subsiding as editor Soledad Salfate cross-fades to Orlando's sauna.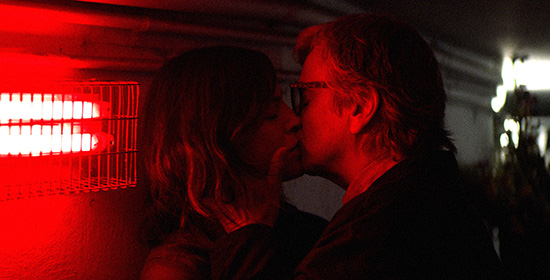 Daniela Vega and Francisco Reyes in A Fantastic Woman (Sony Pictures)
The sauna, as well as the tickets to Iguazu Falls which Orlando may have misplaced there, together form twin pillars of hope. Orlando's locker-room key is in Marina's possession, but when she finally discovers the sauna's location and descends into a world of men, there is nothing there for her. This sequence provides yet another opportunity for Lelio and his DP Benjamín Echazarreta (Gloria) to show Marina reflected against mirrors or windows. The way she is viewed is a projection as much as anything else, the filmmaking suggests.
Plenty of films have been made about identities shifting and slipping under the weight of traumatic upheaval. But there is a concreteness to Marina that exists at the beginning of the film and never falters. Our perception of it might be enlarged, but her identity is never in flux. At times she stares straight down the barrel of the camera. Vega's steady gaze, inviting us to watch her, is frank, neither shy nor defiant.
A Fantastic Woman (Sony Pictures), directed by Sebastián Lelio, 100 minutes. In cinemas 22 February 2018.
ABR Arts is generously supported by The Ian Potter Foundation and the ABR Patrons.