A soldier comes home from war only to find that home is not what it once was. This premise, fertile with dramatic possibilities, has inspired storytellers from Homer and Sophocles to contemporary writers like Ben Fountain. In Taylor Mac's Hir, the foreign war zone and the rainbow-splattered domestic space act as minefields.
The play – first seen in Australia at Belvoir in 2017 – is confined to a twelve-hour timeframe that begins when Isaac (Jordan Fraser-Trumble) returns from Afghanistan. For the past three years he has been society's sacrificial son, a marine in Mortuary Affairs retrieving body parts. Dishonourably discharged for using meth, no parades await him. There is, however, the solace of home – or so he believes.
As the curtain rises the dulcet-voiced Judy Garland sings 'Somewhere Over the Rainbow'. Home is not the object of Dorothy's longing, and for Isaac it has been rendered unrecognisable. Unwashed dishes and clothes spew forth amidst rainbow-coloured craft. Adrienne Chisholm has created an interior gone to domestic weed, as riotous as Mac's script. In this technicolour kingdom, Isaac's mother, Paige (Belinda McClory), reigns supreme, spouting phrases like 'Paradigm Shift!' with a cheerleader's enthusiasm and an exuberance that courts hysteria. Gender and its accompanying expectations are the battleground. Family members have all metamorphosed in its wake, from the abusive father turned brain-damaged stroke-victim, now a blend of grotesque clown and cross-dresser (one of Paige's acts of vengeance). Before Isaac can wonder why the rainbow palette has overtaken this rural American starter home, alongside the tattered American flag, Paige informs him that his sister is no longer his sister, 'You have a brother now. No, not a brother. You have a something.'
This being a Taylor Mac play (the writer co-opts judy as a gender pronoun of choice as homage to Garland), Max is not a 'something' but rather a truculent, pouting teenager currently on 'the mones' (hormones). Endearingly played by Harvey Zielinski, Max, who insists on the pronoun 'ze' instead of 'he/she' and 'hir' – pronounced 'here' – to replace 'his/her', fluctuates between being whip-smart to naïve. Since Hir was first produced by Playwrights Horizons in New York in 2015, all major productions, including this one, have cast transgender actors in the role of Max. 'Ze' has fabulous theories; Noah and the Ark is a 'transphobic' story and 'ze' loves the Mona Lisa because it is transgender, a self-portrait of Leonardo da Vinci. This makes for uproariously funny moments as when the not-for-profit for which Paige works, 'Rural Sprawl', is explained. Its purpose is to buy up their impoverished neighbourhood built on landfill in order to create 'safe space'. As Paige declaims, 'people used to make pockets of safe space but our goal is to make the whole world safe space'.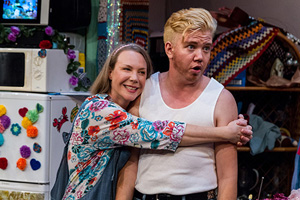 Belinda McClory and Harvey Zielinski in Hir (photograph by Teresa Noble)
Mac has written in a manifesto entitled 'I Believe', 'I'm just trying to remind you of things you've dismissed, forgotten or buried.' This business of retrieval is uncomfortable, and in Hir judy (yes, the playfulness is manifest even when it is serious) veers from deconstructing semantics to the realities of desperate lives. The play's tone is forever shifting, working to destabilise, to unsettle and often teetering on the edge of hysteria.
In her brilliant, mercurial book The Argonauts (2015), Maggie Nelson describes the changing experience of living and loving her partner, Harry, 'a butch on T'. When people ask where the process will end – will Harry end up transgender? – Nelson asks, 'How to explain, in a culture frantic for resolution, that sometimes the shit stays messy?' Even after Isaac cleans up the surface mess here, which he has been forbidden to do, the 'shit stays messy'. Life, like pronoun use, is slippery and unresolved.
Similarly, our sympathies for the occupants shift. The role of tyrant has transferred from father to mother, prompting questions as to whether victims can be termed abusers when their cruelty is directed at their past abuser. Furthermore, what if they have since become invalids? McClory is superb as Paige, who is chimerical as the proud mother/monstrous carer/egalitarian fighter wreaking her smiling vengeance on the pathetic, discomfiting figure of Arnold (Ben Grant). Fraser-Trumble's likeable Isaac ups the ante in Act II when his nervy energy collides with his instinctual empathy.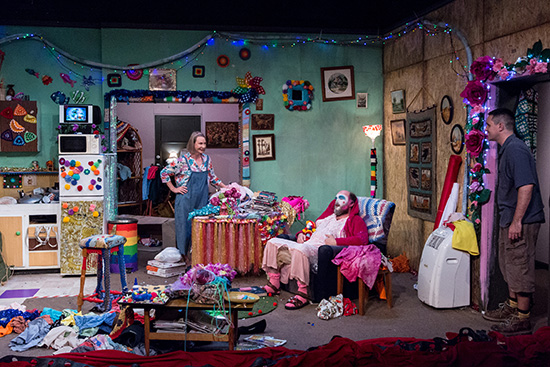 Belinda McClory, Ben Grant, and Jordan Fraser-Trumble in Hir (photograph by Teresa Noble)
The notion of home in Hir is akin to the selves who inhabit it: fluid. A claustrophobic mood is accentuated by Red Stitch's intimate space. We witness society's festering sores and wounds up close; abuse, misogyny, violence, war. Mac's upending vision, as realised by director Daniel Clarke and this near pitch-perfect cast, is to allow us, even through the horror, to encounter the joy of possibility or at least the possibility of joy. Between and during the psychological warfare, anarchic volleys of laughter erupt. What we are left with is Hir's deeply affecting resolution; that compassion might get us through because the alternative, as embodied by Paige, is unremittingly bleak.
Hir (Red Stitch Actors' Theatre), written by Taylor Mac and directed by Daniel Clarke, continues until 4 March 2018. Performance attended 4 February.
ABR Arts is generously supported by The Ian Potter Foundation and The ABR Patrons.