In the argument over the programming of Broadway musicals by Australia's opera companies, it is usually assumed that audiences know the difference between the two forms. But even superficial markers can be misleading. Bizet's Carmen (1875) uses dialogue and song forms that are traditionally associated with the musical, but is classified as an opéra comique. When it was transposed into English as Carmen Jones (1943), with even less dialogue than the original, it was inexplicably classified as a musical. Stephen Sondheim himself, notoriously indifferent to opera, acknowledges the arbitrary nature of categories in his book Finishing the Hat (2010): 'When Porgy and Bess was performed on Broadway it was a musical; when it was performed at … Covent Garden it was an opera.'
It may, therefore, be of little comfort to lovers of both forms that Victorian Opera has chosen Sondheim's Sweeney Todd (1979) as the final in their trilogy of works by this towering figure of the American stage. While it shares some of the qualities attributed to opera and to musicals, it takes most of its musical cues from another medium altogether: the film score.
From the roiling chords of the organ and piercing factory whistle that open the play to the racing hysteria of the final notes, the piece is driven by the brooding underscoring throughout; it is a source of tension and dread that serves as a love letter to the film scores of Bernard Herrmann. Orchestra Victoria, under the baton of Phoebe Briggs, plays sensitively and with great force.
The tale of Sweeney Todd, the demon barber of Fleet Street, is deeply rooted in the penny dreadfuls and Grand Guignol that captivated late Victorian audiences, a precursor to the cheap thrills of film horror. Sondheim's musical adaptation picked up on playwright Christopher Bond's additions to the myth: namely, Sweeney's motivation for murder.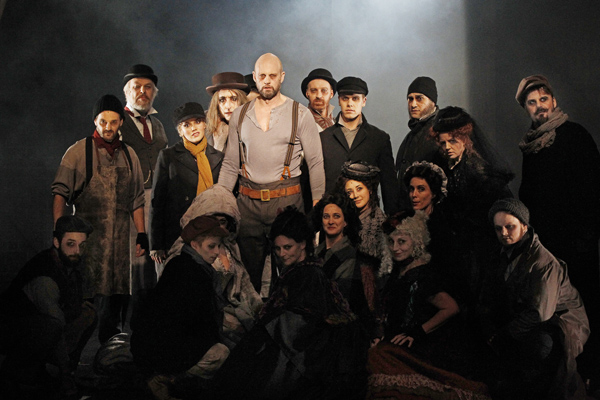 The cast of Sweeney Todd (photograph by Jeff Busby)
Todd (Teddy Tahu Rhodes), a transportee, returns to London from Australia fixated on vengeance, after his wrongful conviction at the hands of the noxious Judge Turpin (Phillip Rhodes). His wife is dead and his daughter, Johanna (Amelia Berry), is now the judge's ward and prisoner. He soon reconnects with his former landlady Mrs Lovett (Antoinette Halloran), a pie-maker of dubious skill and an eye for opportunity.
'While it shares some of the qualities attributed to opera and to musicals, it takes most of its musical cues from another medium altogether: the film score'
Todd has two crooning love songs early in the piece, a brief one on the subject of his wife and a more passionate one on the subject of his razors, entitled 'My Friends'. It is disturbing to note his priorities. Later, too, Todd will sing of his new barber's chair – which will send random innocent throats into the depths – that 'I have another friend'. His anthropomorphic fetish of implements of violence gives an indication of his psychopathy.
It is a relentlessly bleak and bloody-minded part, alienating and strangely detached from the action, yet requiring a singular, fervent purpose. While Rhodes is certainly up to it musically, it may be beyond his dramatic range as an actor. Physically and vocally Rhodes dominates the stage, but he struggles to anchor the play emotionally.
Halloran, on the other hand, is revelatory as Mrs Lovett. Capable of fierce bursts of determination, she keeps her black heart veiled by a sunny charm, rather like those deep-sea predators that use phosphorescence as a bait for their terrifying jaws. Her moments of genuine maternal feeling only serve to highlight her dreadful nature. She is more than a match for Sweeney, and often threatens to walk off with the whole production.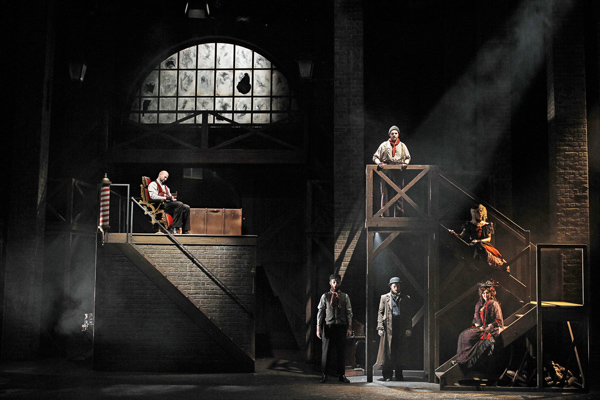 (photograph by Jeff Busby)
The rest of the cast is strong and the singing, not surprisingly, is uniformly excellent. Berry and Blake Bowden as Antony make a sweet, lyrical pair of lovers and Ross Hannaford's Tobias, from a timid start, grows admirably with his misplaced ode to loyalty, 'Not While I'm Around'. Kanen Breen is magnificent as the Beadle, unctuous and menacing, like a poisonous lizard.
'His anthropomorphic fetish of implements of violence gives an indication of his psychopathy'
Roger Kirk's design is pitch perfect, a palpably grimy Victorian London that also suggests a gateway to hell, aided immeasurably by Philip Lethlean's creepy lighting. The resources that have gone into the staging – notably absent from Victorian Opera's previous Sondheim productions – pay off handsomely, and Stuart Maunder's direction is mercifully light on his usual predilection for cheap laughs and broad characterisation.
Sweeney Todd is largely about class warfare; it tells a tale of injustice and inequality erupting into uncontrollable violence and bloodshed. That motivation may be a domestic one, a rogue individual's misguided attempt to right a wrong, but the wider implications are still clear. They are also disturbingly relevant, which may go some way to explaining the enduring popularity of this blackest of musical thrillers.
It wasn't always so. The original Broadway production was a financial disaster, but over time Sweeney Todd has proved one of Sondheim's most popular works. Its gruesome blend of high and low culture seems strangely apt for the stages of Victorian Opera after all.
Sweeney Todd: The Demon Barber of Fleet Street: A Musical Thriller, music and lyrics by Stephen Sondheim, book by Hugh Wheeler. Stuart Maunder directs for Victorian Opera. Season runs from 16–25 July 2015 at the Playhouse, Arts Centre Melbourne. Performance attended 18 July.