At a time when a convicted drug smuggler is rumoured to be about to collect a fortune for her remarkably unremarkable story and when we are heading into a new round of so-called 'culture wars', in which an extraordinary amount of heat will be generated with precious little light accompanying it, it is refreshing to be presented with another of Michael Gow's forensic explorations of the world in which we stumble around. From that explosion of fury, pain, and Wagner, The Kid (1983) onwards, Gow has observed society with a ruthless but compassionate eye. Anger and grief are the dominant emotions that fuel his work, and they are very much in evidence in his latest play, Once in Royal David's City.
Will Drummond is a Brecht-obsessed theatre director who is rather surprisingly working on a production of The Importance of Being Earnest, although, as he points out, Brecht himself was planning a production of My Fair Lady at the end of his life. He abandons the project after his father's death and borrows a friend's house in Byron Bay, where he intends to spend Christmas with his mother. When she arrives it becomes obvious that she is seriously ill. The play follows her decline and Will's attempts to find some coherence in a world that is disintegrating around him.
From the opening moments, as Will directly addresses the audience, we are kept constantly aware that we are in a theatre. Settings are described to us and actors declaim stage directions. There is a marvellous scene in which Will, on a break from the hospital in which his mother lies, sits in a park eating his Christmas lunch, a sandwich. He gets into conversation with a skate-boarder who has escaped his own fraught family. There is a silence and as Will gazes longingly at the beautiful boy, an actor repeats firmly 'he goes back to the hospital' until Will finally gets up and obeys.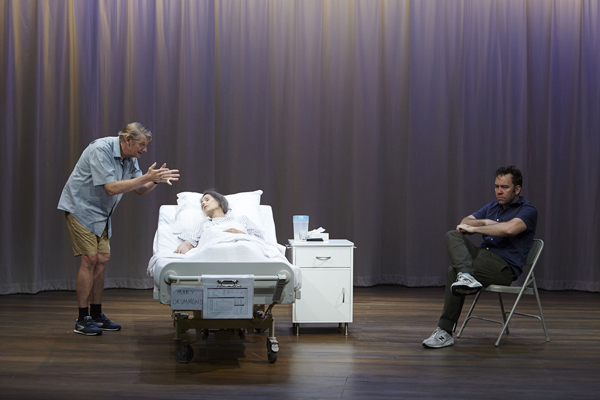 Anthony Phelan, Helen Morse, and Brendan Cowell.
(photograph by Ellis Parrinder)
' ... it is refreshing to be presented with another of Michael Gow's forensic explorations of the world in which we stumble around.'
The use of Brechtian devices underscores a point that Gow wants to make, which is that the idea that Brecht was only interested in the intellectual didactic side of theatre and not the emotional is a complete misunderstanding of what he was about. What Brecht wanted was an emotional response to a situation, a response underpinned by an understanding of the social and economic reasons for it.
Gow is interweaving three strands here: Will's confrontation with and gradual acceptance of his parents' mortality; his championing of theatre, especially Brechtian theatre; and his revulsion at the triumph of capitalism, the shallow impersonal world it has created, and the smug assumption that we are at the end of history in a classless society. These are huge themes, and it is a testament to Gow's deft craftsmanship that only occasionally do we hear the sound of changing gears.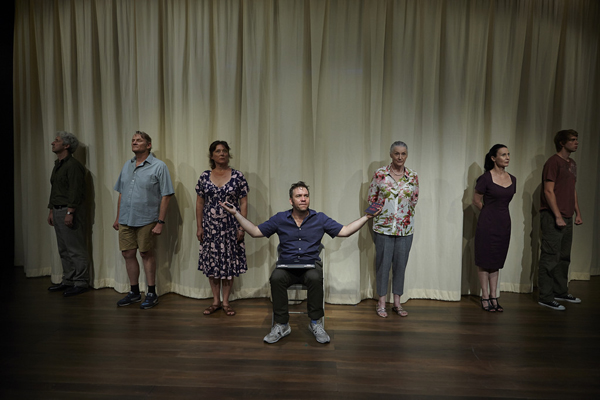 Lech Mackiewicz, Anthony Phelan, Helen Buday, Brendan Cowell, Maggie Dence, Tara Morice, and Harry Greenwood. (photograph by Ellis Parrinder)
Eamon Flack's fluid, minimalistic direction, which worked so well in Angels in America (Belvoir, 2013), is equally effective here on another play that combines the personal and the political. Although smaller in scale, it is equally epic in ambition. The stage is bare apart from some chairs, a bed, and a few props. A curtain that is drawn to signify scene changes suggests both a hospital curtain and Brecht's famous half-curtain. Nothing on the stage is extraneous.
Belvoir has supplied an exceptionally strong cast led by Brendan Cowell's Will. Crumpled, somewhat bewildered by the events unfolding so rapidly around him, but capable of bursts of fury, Will is a softer but similar character to the writer Roland Henning, protagonist of Gow's Furious (1994) and Toy Symphony (2007). Cowell has the warmth, intelligence, and authority to take hold of this mammoth part and make it his. In one bravura scene, the three strands of the play come together as Will watches Christmas banality on television while researching pancreatic cancer on the Internet and quoting from The Communist Manifesto. In lesser hands this might have seemed bewildering, but Cowell brings it off brilliantly. He manages to make the final scene, a lecture about Brecht, both the intellectual and the emotional highlight of the evening in a way that convincingly proves Gow's point.
One of Gow's great strengths as a playwright is that none of the characters he creates, however small the role in the play, is a cipher. Peripheral characters can behave unexpectedly but always believably. The cast grabs its opportunities with both hands. As Jeannie, Will's indomitable mother, Helen Morse makes the most of her early scenes before retiring to her hospital bed. Anthony Phelan makes much of Wally, the hospital-haunting evangelical non-believer. As Molly, Jeannie's oldest friend, Maggie Dence is very moving in her farewell to her old comrade, and is quite devastating in the tiny role of an old actress who can no longer remember her lines.
The play ends with Will quoting Julius Sumner Miller's famous question 'Why is it so?' – a question we hope that Michael Gow will continue to ask us to explore with him.
Belvoir St Theatre's production of Once in Royal David's City, directed by Eamon Flack, runs until 23 March at Belvoir's Upstairs Theatre. Performance attended 12 February.