In Simon Baker's film, there is a visually stunning moment – one among many – of a giant curving wave on the verge of breaking that recalls the Japanese artist Hokusai's famous 'The Great Wave of Kanagawa'. What these two images share is the sense of rapturous beauty that doesn't underestimate the challenge it offers. It seems appropriate to start on this note as the cinematography (the work of Marden Dean and Rick Rifici) creates from the outset the centrality of the surf to the film, as indeed it is in Tim Winton's 2008 novel.
Winton has in recent years been well served in the matter of his novels' being adapted to the screen. The television miniseries Cloudstreet (2011) captured the novel's poetic dealings with the possibility of reconciliation between contrasting approaches to living, and the three-hour Turning (2013), for which Winton co-authored the screenplay, miraculously wove seventeen of his short stories of interlocking lives into a coherent panorama – or mosaic? – of turning points and convergences in a coastal community. In Breath, his voice is heard on the soundtrack as that of Bruce Pike ('Pikelet'), a mature version of the film's youthful protagonist, drawing on the novel's perceptions, as he intones: 'Never had I seen something so beautiful, so pointless and elegant, as if dancing on water was the best thing a man could do.'
The film dispenses with the novel's opening episode involving the older Pikelet, but the voice-over performs some of the same distancing effect, 'distancing' in the sense of suggesting how the boy has fared since the days of his youth. The 'coming-of-age' scenario was important in the early years of the Australian film revival of the 1970s and 1980s, and in some ways Breath's narrative recalls this. There are two boys aged about fourteen, Pikelet (Samson Coulter) and the aptly named Loonie (Ben Spence). Despite character and social differences, they are best friends, and the film, like the novel, is interested in both, but it is really Pikelet who has 'come of age' by film's end. He has two crucial encounters, to do with surfing and sexual initiation, that will lead him to a degree of self-knowledge likely to elude Loonie terminally. Pikelet has learnt that 'There's fear in all of us; it's how you deal with it that counts'.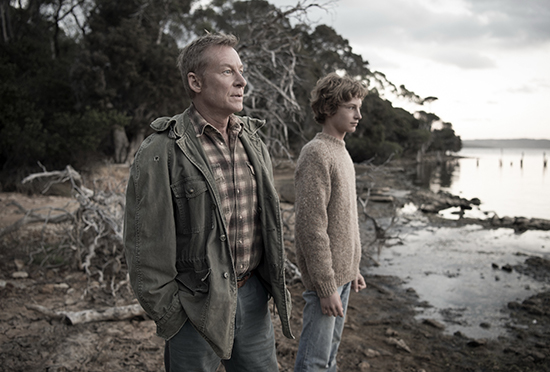 Richard Roxburgh and Samson Coulter in Breath (Village Roadshow)
After the evocative opening shot of the limbs of two boys darting about underwater, a moment reprised at the film's ending, the voice-over of the adult Pikelet informs us: 'I was an only child, solitary by nature.' The film then reveals the boy out in a boat on a river with his father (Richard Roxburgh), who is unadventurous by nature and doesn't want to venture further into the daunting waters of the bay. When we next see Pikelet and Loonie hurtling on their bikes, it's clear that Pikelet is the more cautious of the two, and Baker maybe implies an element of genetic inheritance. But only an element – quite soon the two boys will have acquired their first surf boards, and once Pikelet has breasted his first big wave, he is hooked.
This life-changing moment coincides with the appearance of Sando (Simon Baker), a 'hippie' type who lives with his American girlfriend, Eva (Elizabeth Debicki), in a rambling hut in the woods and who allows the boys to leave their boards at his place. Don't imagine that Breath is another of those Australian surf movies of several decades ago, films made entirely for aficionados. The screenplay for Breath certainly examines, and celebrates, the rapture that the waves can induce, but it is written and directed with a real concern for the kind of life from which Pikelet has emerged. His parents are conventional but not dull or repressive, and Baker, in his dual function as director and co-author, imbues the scenes depicting the home life they provide with warmth and precision. When Loonie stays with them, he compliments Mrs Pike (Rachael Blake) on the dinner, and the Pike meals are a homely meat-and-three-veg affair. In a small, revealing detail when the boys eat at Sando's place, they are offered smashed avocado on toast, two lifestyles quietly contrasted.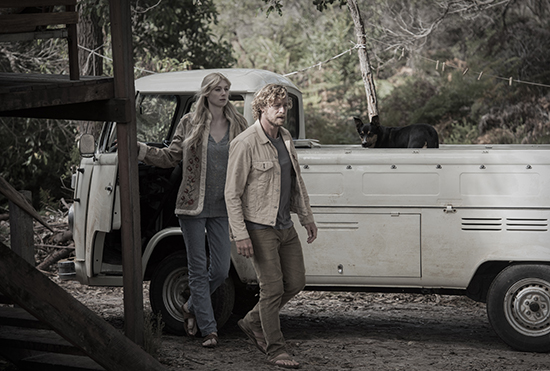 Elizabeth Debicki and Simon Baker in Breath (Village Roadshow)
What really takes Pikelet's eye is the leggy beauty of Eva, who is also keen to catch that eye. While Sando is in Asia, Pikelet at fourteen loses his virginity to this decade-older woman, and he can no longer honestly play along with his school girlfriend. When I wrote that he has come to self-knowledge in two matters, I meant that he knows both that 'it [the surf] is not for me' and that the adolescent trajectory has been disrupted, however keenly he has surrendered to both.
Drawing on Winton's eloquently haunting novel, Baker has made an engrossing and, finally, moving study of a boy coming to terms with life's challenges, a little battered but also strengthened by experience.
Breath (Roadshow Films), 115 minutes, directed by Simon Baker. In cinemas from 3 May 2018.
ABR Arts is generously supported by The Ian Potter Foundation and the ABR Patrons.