This year marks the fiftieth anniversary of Graeme Murphy's career as a dancer and choreographer, which began at The Australian Ballet in 1968. He has often returned to create new ballets on the company – during his thirty-one years as artistic director of Sydney Dance Company from 1976 to 2006, and more recently. His lasting successes at The Australian Ballet comprise Nutcracker – Clara's story, Swan Lake, and Beyond Twelve, a tribute to the late principal dancer Kelvin Coe. To honour the anniversary, David McAllister, The Australian Ballet's artistic director, invited Murphy and his artistic and life partner, Janet Vernon, to compile a retrospective to open this year's offerings.
To say that Murphy and Vernon are joined at the hip would not overstate the effect of their lives as artist and muse on Murphy's choreographic imagination: every step or phrase of dance, any gesture or mood, any response to a musical line reflects their dedication to fashioning a liquid flow of movement that harks back to German Expressionism, and a neoclassical line that can slip without warning into something more organic, primal, and often erotic. Murphy's ideas on partnering can seem eccentric, as he repeatedly places dancers on top of, wrapped around, or plastered against one another, and pulled into exacting geometries. Underpinning all this is Murphy's expansive musical taste, from European composers such as Ravel, Xenakis, and Messiaen to Australians Matthew Hindson, Graeme Koehne, Carl Vine, and Max Lambert.
Two pas de deux in the first half of Murphy illustrate these stylistic values well. The first is for the Marschallin, an ageing actress, and her reassuring young lover Octavian, from the 2008 ballet The Silver Rose, Carl Vine's adaptation of Richard Strauss's opera Der Rosenkavalier. Preceded by an alarming nightmare of clocks chiming, multiplying and flying off walls, and nightmare figures tossing the Marschallin around, this whole extract was a curious choice to open a celebratory occasion, albeit well danced by Dimity Azoury and Ty King-Wall.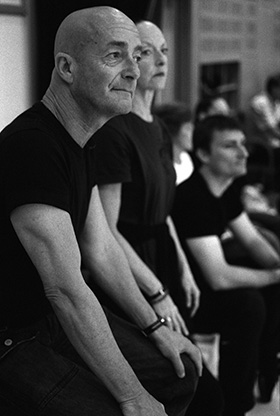 Graeme Murphy, Janet Vernon, and David McAllisterThe second and more satisfying pas de deux is the heart of Grand, a multifaceted tribute to Murphy's late mother, Betty, a talented pianist. Dancing to the Lento mesto from Beethoven's Sonata in D major, Op.10 no. 3 – adroitly played on a roving grand piano by the pianist–arranger Scott Davie – Leanne Stojmenov and Kevin Jackson gave a heart-rending illustration of a loving couple, grieving, or at odds, their every breath and gesture coloured by the music. This duet was the highpoint of the evening, sandwiched between two Danzas Argentinas by Ginastera and the Andante from Gershwin's Three Preludes. The Gershwin shifted the tone to smoky cabaret terrain, in which four men coolly manipulate a woman (Valerie Tereshchenko) like a glamorous 'babe' through a seductive game. Then more humour and speed took over with Brett Chynoweth and Marcus Morelli dancing up an old-fashioned storm of tricks to Fats Waller's snappy Alligator Crawl.
Another highlight was the 1979 Sydney Dance Company production Shéhérazade, danced to Maurice Ravel's eponymous song cycle, setting three poems by Tristan Klingsor, and dressed by the late Kristian Fredrikson in costumes drawn from Gustav Klimt's richly patterned and coloured paintings The Tree of Life and The Kiss. In keeping with the exotic atmospheres of Ravel's music and Klingsor's text, Murphy's surprisingly demanding choreography is almost entirely camouflaged by sensuousness, self-absorption and intimations of ambiguous sexualities. Conductor Nicolette Fraillon and Orchestra Victoria delivered a refined performance for Leanne Stojmenov and Jarryd Madden, who were beauteous and captivating throughout, well supported by Lana Jones, Brodie James, and mezzo Victoria Lambourn. Another Orientalist work, Air and Other Invisible Voices inspired by Michael Askill and Giya Kancheli, was strangely lost here, even though eloquent performances by Sharni Spencer and Jake Mangakahia were well received.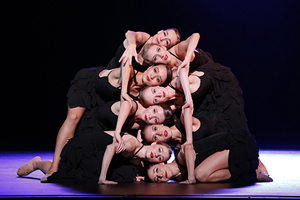 Artists of The Australian Ballet perform Grand in Murphy (photograph by Jeff Busby)
The outlier in the first part of Murphy was an excerpt from Ellipse, which looked and sounded like an aerobic hoedown on speed, to a driving score by Hindson – slightly wacky and lots of fun. Jade Wood, Brett Chynoweth, Jill Ogai, and Marcus Morelli took to the stage and danced as if Ellipse was made on them.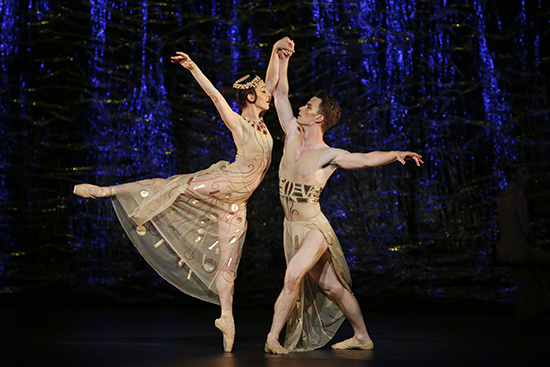 Leanne Stojmenov and Jarryd Madden perform Shéhérazade in The Australian Ballet's Murphy (photograph by Jeff Busby)
There was little pleasure to be had in Firebird after interval, other than superlative dancing from Jackson and Jones as the Tsarevich and Firebird who must free the beautiful Tsarevna (Amber Scott) from the reptilian magician Kostchei (Chynoweth), and some long passages from Igor Stravinsky's 1909 original music for Diaghilev's Ballets Russes. Firebird, commissioned for the Ballets Russes centenary in 2009, when a colleague suggested that Stravinsky's own arrangement of the 1945 suite (which Murphy chose), with two long legato spans that lose impetus and theatricality, is a tough challenge for any choreographer. But little defence can be mounted for Leon Krasenstein's misguided costuming, which detracts from his own spare and effective set design. Even an overall better performance at Saturday's matinee did little to solve Firebird's problems, while the rest of the program, tightened up overnight, delivered some genuine satisfactions, notably the exquisite anguish of Yumi Yamada and Andrew Killian in the Beethoven duet from Grand.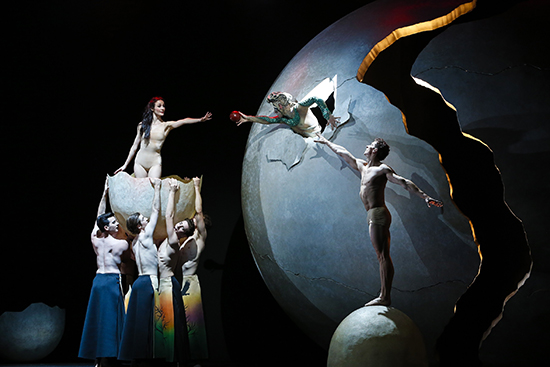 Artists of the Australian Ballet perform Firebird in Murphy (photograph by Jeff Busby)
Murphy, by Graeme Murphy and Janet Vernon, is presented by The Australian Ballet at the State Theatre, Arts Centre Melbourne, until 26 March 2018, and at the Sydney Opera House from 2 to 23 April. Performances attended: 16 and 17 March.
ABR Arts is generously supported by The Ian Potter Foundation and the ABR Patrons.