Ballet at the Quarry, West Australian Ballet's summer season, is eagerly anticipated by dance aficionados and the wider public alike, and this year's program has drawn full houses and standing ovations. The Milky Way of the season's title represents one of the most significant moves that Aurelian Scannella, the company's artistic director, has made since arriving in Perth five years ago. The key work on the program is Milnjiya, Milky Way – River of Stars, a collaboration with Darwin-based Larrakia choreographer Gary Lang and his company Gary Lang NT Dance Company. Three of Lang's dancers – Michele Dott, Darren Edwards, and Catherine Young – join the impressive ballet artists, while Yorta Yorta soprano Deborah Cheetham brings noble presence and spirit to Milnjiya.
An alumnus of NAISDA Dance College, and former member of Aboriginal Islander Dance Theatre and Bangarra Dance Theatre, Lang draws on his grandparent's Yolngu stories about spirits making their journey to the 'river of stars' in the heavens. In brief interruptions to the broad narrative, traditional Bungul dancers Ngalkbuy Munungurr and Loretta Yunupingu, song man Banula Marika, and yikadi player Malngay Yunupingu represent the earth and continuous time. As the ballet unfolds, Cheetham plays the 'spirit guide' witnessing the spirits' restless waiting for permission to leave the earth as she majestically sings Gorecki's Symphony No. 2, 'Sorrowful Songs', played and recorded with intense feeling by the West Australian Philharmonic Orchestra, conducted by Jon Tooby.
The seed for this ambitious project was sown five years ago when director Scannella observed Lang at work with local Indigenous company, Ochres. Scannella admired the lyricism of Lang's movement, which was markedly different from that of Bangarra, and found it more sympathetic to a balletic sensibility. (Earlier, Bangarra director Stephen Page and associate Francis Rings had created Munaldjani in 2004 and Debris 2007, respectively, for West Australian Ballet.)
The result is a hypnotic forty-minute meditation on patience and endurance as the body ages. The ballet opens with flaccid bodies heaped in pairs, while the traditional artists, having made their vitality felt, fall silent stage left, only to reappear as reminders that the world continues to live, dance, and make music.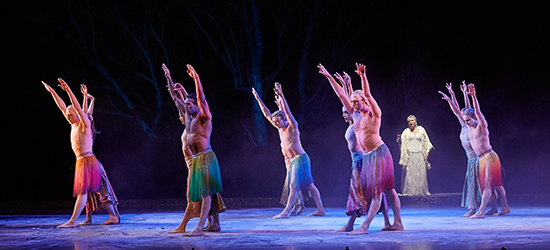 Milky Way – Ballet at the Quarry (photograph by Sergey Pevnev)
Three loosely structured movements follow most of Gorecki's score. Waves of dance change in tone, shape, and volume. A trio of couples plays with linear, balletic lifts that look solid until the dancers melt apart. Upstage, others watch and wait, then unfurl themselves across the floor in crab-walks and contrasting partnerings. Over the course of the second movement, a growing sense of yearning takes over until tenderness morphs into desperation and exhaustion. So many fluctuating moods demand energy and concentration – from the audience too – but Lang's variations and inflections animate the ballet.
The final movement, surrounded by projections on the quarry's stone like a starry sky, climaxes to vibrating strings, organ, and bells in a moving and all-enveloping sweep. Shallow lifts usher the dancers into a slow procession of vanishing spirits, and finally the traditional artists take control of the empty stage. It is a slightly jarring note to end on, something that warrants revisiting and refining.
Production values are strong, but subtle too. Gav Barbey and Lyndell Darch's costumes of hand-dyed, painted, and tooled textiles are saturated with rich colours, patterns, and even some artwork by Lang. Cheetham's glamorous white gown is embroidered with shiny Atlas Pears. Lighting designer Joseph Mercurio, one of the country's finest, is excellent here and through most of the program.
Two works by veteran French artists and co-directors of Sous le Paus opened the show. Patrick Delcroix's Paradise Within is a hyperactive work for ten characters who break up, flirt, love, avoid each other, make up. While some may 'have strong reasons to embrace our dark side,' Delcroix notes in the program, 'we should try to find an inner paradise' before it's too late. Ezio Bosso's String Quartet No. 5 (Music for the Lodger) IX–XII, performed by the Turin String Quartet, was pivotal to the enjoyment of this work.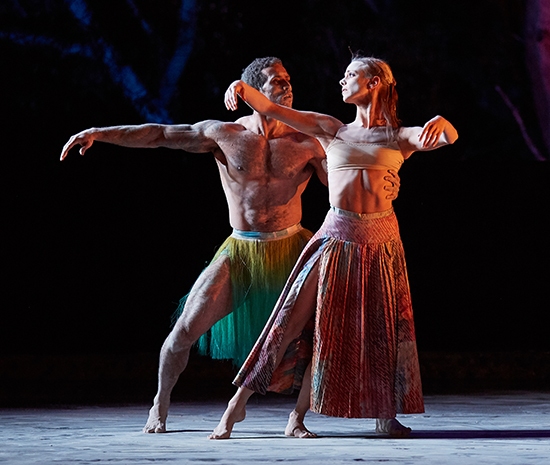 Milky Way – Ballet at the Quarry (photograph by Sergey Pevnev)
Claude Brumachon's Les indomptes (the untamed) is zany, affectionate, and frenetic. Two men, one mature and big (principal Matthew Lehmann), one young and lean (corps de ballet Jesse Homes), indulge in what Brumachon calls 'a dual flight' full of energy, seeking something to "let go of" [in order] to find the desire in a body offered, letting the vocalism of movement vibrate'. Belgian singer–composer Wim Merten's high-pitched voice added a frisson of danger to this more satisfying work.
West Australian Ballet dancer Christopher Hill's choreography, music, and designs (with Darch) for Ghost Gum might have been conceived as a preamble to Milnjiya, but it was too soft to make an impact. Only exquisite designs by Barbey, abstract modern works that opened up to reveal panels as evanescent as Redon watercolours, and an enormous, up-lighted tree in the bushland behind the quarry, gave it any purpose on this program.
Milky Way – Ballet at the Quarry is presented by West Australian Ballet as part of the Perth Festival and continues at the Quarry Amphitheatre, City Beach, Perth until 3 March 2018. Performance attended: 13 February.
ABR Arts is generously supported by The Ian Potter Foundation and the ABR Patrons.