Music
Two Verdi masterpieces staged by Opera Australia
Opera Australia's spring season, after an impressive autumn one (with the well-received Lucia, Butterfly, and Salome), opens with two masterpieces by Verdi in his bicentennial year. It is a decidedly rocky pairing.
La Fura dels Baus's production of Un Ballo in Maschera was first seen in Sydney in January. La Fura is open about its intentions. Assistant director Valentina Carrasco told Time Out Melbourne that 'it's not a love story and we want to show that'. Admirers of the great love duet in Act Two may find this surprising.
Politics are everywhere, and so are the masks. Director Alex Ollé, writing in the program, refers to recent protest movements like the Arab Spring and Occupy Wall Street and says that 'the protester's aim is to unmask the face of power'. Thus the usually rather benign and jovial Gustav III of Sweden becomes a boorish, neurotic despot, while protestors daub NO FUTURE on available walls.
Video has much to answer for. Many a Leningrad or Resurrection symphony has been marred by tendentious arthouse projections. The new Masked Ball opens with images of war, a naked athlete covered in letters, and the usual Biafran waif.
Gustav's court is set in a kind of Brutalist shopping centre. All the choristers wear masks and pale blue suits with numbers on the back. The king himself (played here by Diego Torre) wears a silver visor over his mask: he lifts the former during moments of unregality. Torre is in good voice for the first of his many cheerful arias. Despite the ridiculous mask, he is a willing if conventional actor.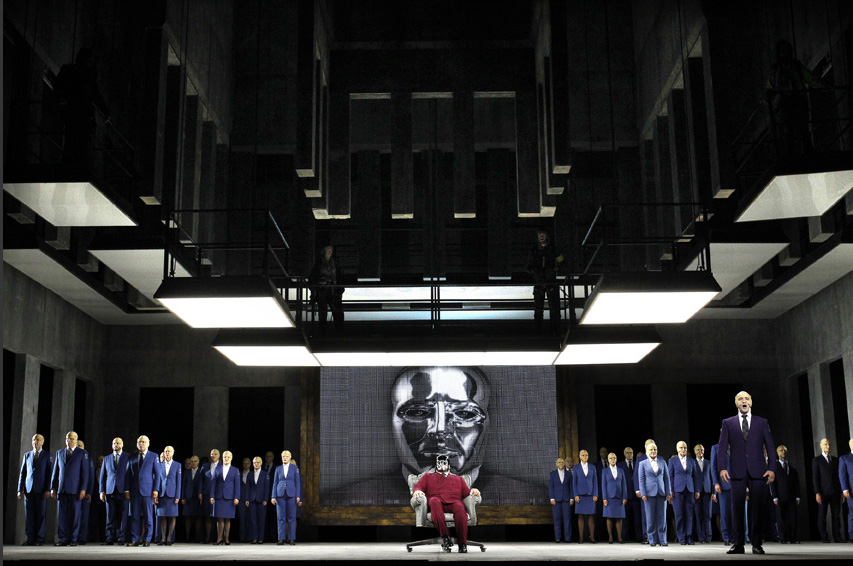 Diego Torre as Gustav III and Jose Carbo as Count Ankarstrom in Opera Australia's production of A Masked Ball (photograph by Jeff Busby)
Opera singers are often not very glamorous to behold. Put them in purple frock coasts and burn masks and you do them no favours. Good singers use their whole face to act with, to reach people in the gods. That's why Maria Callas lost eighty pounds in a year: she needed a jaw-line and wanted her neck back. Here, there was little chance for the principals to act, to emote. The effect was one of coldness and disengagement.
Scene Two, when Gustav heads off in disguise to meet the notorious sorceress Ulrica, has some of the most glorious music in the opera – some of the hardest too for contralto. Mariana Pentcheva (Ulrica, a precursor of Erda) was in poor voice, with little power and a torrid vibrato. She sang better than this in Sydney, and rallies in the brilliant, ironic ensembles that follow. Memories of the mighty Lauris Elms in this role – and of the astonishing Stephanie Blyth in the Met's (equally wayward and indulgent) new production late last year – don't help matters.
Csilla Boross, as Amelia, is in confident, full-voiced, expressive form. Unfortunately, she must wear a tram conductress's uniform, with mask. Only in Act Two is she given something sleek and sensible to wear – a cocktail dress – but then she has to change back into the officious suit for the finale.
Amelia's great moment comes at the start of Act Two, when she goes to the foot of the public gallows in search of the herbs that will rid of her this guilty love for Gustav. 'Ma dall'arido stela divulsa' is one of Verdi's finest, darkest, most searching and exposed arias. Boross sings it well, despite the gratuitious shades that writhe around her – such a literal and distracting touch.
Csilla Boross as Amelia and Diego Torre as Gustav III in Opera Australia's production of A Masked Ball
(photograph by Jeff Busby)
The immense and complex love duet that follows is well sung but fussily directed (finally the lovers shed their masks, in recognition). The brilliant trio that follows is taken impressively fast. José Carbó is our Anckarstroem, the king's secretary, likely cuckold, and ultimate assassin. Even in a mask Carbó knows how to act. When he learns that Gustav's nocturnal companion is in fact his own wife he is suitably threatening. Enraged, even his posture changes. As the conspirators mock the couple to brilliant effect, Anckarstoem hauls Amelia back to her their house. Early in the final act Carbó sings the aria 'Eri tu' with great force and conviction, as he did in Sydney, where he stood out in this cast.
The closing masked ball is the weakest thing in the opera. The chorus, lamely directed, mooches about with tipsy, perfunctory merriment. The holocaust that kills them all after Gustav's assassination is predictable and risible. One shouldn't end up sniggering as the curtain falls on the dying Gustav, but that was a common reaction where I was sitting.
La Fura ignores the essential inwardness of this opera. The main characters are so introspective, notably in arias like 'Eri tu' and Amelia's 'Ma dall'arido stela divulsa' and 'Morrò, ma prima in grazie'. Listen to Callas's recordings of the latter, which become soliloquies of immense potency.
Three months after its première, the sheer incongruity and silliness of this production become even more apparent.
The second Verdi on offer was Aida – his last opera in the 'grand' style. Conceived to celebrate the opening of the Suez Canal, it was rather late for that milestone, not premièring in Cairo until 1871.
Remarkably, this performance was even less successful than Ballo. It is a revival of Graeme Murphy's busy production, which was first seen in Perth in 2008. It is, as you would expect from this flamboyant choreographer, fast-moving, highly coloured and intricately constructed. Much is expected of the cast and chorus. They flit round the stage and strike a series of attitudes, possibly idiomatic. We start with a pyramid, which is projected on the floor, prompting a series of tendentious triangulations from our three principals, who scamper to their corners like disciplined baseball players.
First, though, Radamès (Carlo Barricelli), opens the night with the difficult aria 'Celeste Aida'. Radamès is meant to be alone on stage, but Murphy, in a sign of things to come, has the Aida of his dreams writhing on the floor.
Then comes the conveyor belt (or sushi bar, as someone cruelly dubbed it during interval). It runs above the footlights, next to a narrow infinity pool in which one topless ballerina executes a freestroke dash at the beginning of the inimitably moody Nile Scene. The belt is never still for long. Somewhat warily, the principals step onto it and are whisked to the other side of the stage for dramatic effect. This is particularly distracting in the middle of arias and ensembles.
Barricelli looked suitably lordly and conflicted, but sang poorly on opening night. He seemed uncomfortable all night, and acted woodenly. His pitch was a major problem in the first three acts, though he settled in the great Tomb Scene, which was kinder to both principals, being covered and closer to the audience.
Daria Masiero, as the eponymous Ethiopian slave, looks the part and has some fine pianissimo moments; but her voice is light for this taxing role and large theatre.
Michael Honeyman as Amonasro (Aida's father and kind of Ethipia) lifted this torpid performance briefly, though the Nile Scene with his daughter – one of those stirring filial scenes Verdi created for baritone and soprano – was strangely flat. Aida's soaring plea for pity when Amonasro savagely disowns her – as great as anything Verdi ever wrote – passed without a frisson.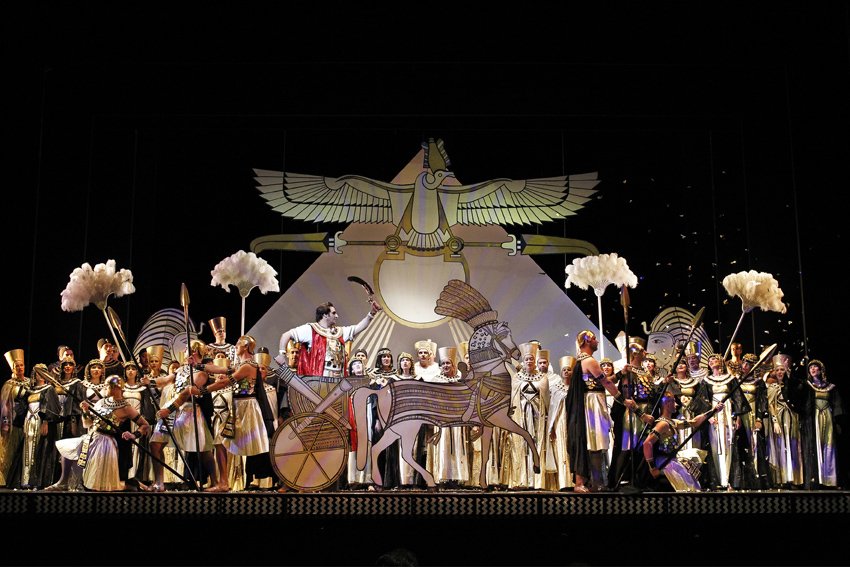 Artists of Opera Australia in Opera Australia's production of Aida
(photograph by Jeff Busby)
The best of the four principals was Deborah Humble as Amneris. She looked very princess-like in all the gold and tinsel they could find in the wardrobe department. Hers is a light and youthful-sounding voice for such an exceptionally taxing mezzo role, notably in Act Three, when Amneris beseeches the imprisoned Radamès to relent and exculpate himself; but Humble sang accurately throughout. Her rage at the end of this powerful scene, when she vituperates Radamès's accusers, injected some needed emotion into this production.
At the end, the conveyor belt did its gaudy worst. As the entombed lovers prepare to die – to some of Verdi's loveliest and most languorous music in 'O terra addio'(a kind of Italian Liebestod) – Murphy makes them step onto the belt in frozen attitudes so that they can (inexplicably) change places.
The problem is that if you reduce your principal singers to bas-relief figures on a conveyor belt you deprive them of what Verdi gave them in abundance – humanity, complexity, volatility and vulnerability, and a kind of piteous hard-won knowledge.
Murphy makes the mistake of saturating the opera with spectacle, to borrow Lord Harewood's phrase. He forgets that Aida – despite its grand, brassy, tumultuous beginnings – resolves itself in chamber-like scenes of great stillness and intensity. As that discerning student of Verdi Charles Osborne reminded us: 'For all its public scenes, it is the most intimate of "grand" operas, and at its heart one senses Verdi's profound melancholy.'
Best of all this season was a modest little offering in a Prahran chapel. This was the Lyric Opera of Melbourne's version of Poulenc's La voix humaine, restyled as Elle, after the stricken woman who occupies the tiny stage for an hour on the eve of her lover's wedding to a younger woman. The tiny stage is looped with a long red wire like the cord that telephone cord that Elle ceaselessly frets at during her many abortive conversations with her lover.
Marilla Homes, who has sung with Victorian Opera since 2006, was the Elle on this occasion (she alternated with Julie Torpy throughout the season). Vocally she is never tested by the music. Joining her on stage were pianist Sarah Cameron (impeccable and controlling), Chris Howlett on cello and Lloyd van't Hoff on clarinet. Both men at times leave their music stands and mooch around Elle to seductive music drawn from separate sonatas by Poulenc. The scene between Elle and the Caravaggiesque-faced Hoff was a highlight.
The Human Voice can be a trying experience for certain audiences. I recall sighs of impatience in the stalls when Liv Ullmann appeared in Cocteau's play in Melbourne back in 1978. Homes is outstanding as Elle, by turns catty and nostalgic, vitriolic and pathetic – and often very funny. It is a real occasion to see a young singer command a stage for an hour in such an intimate venue.